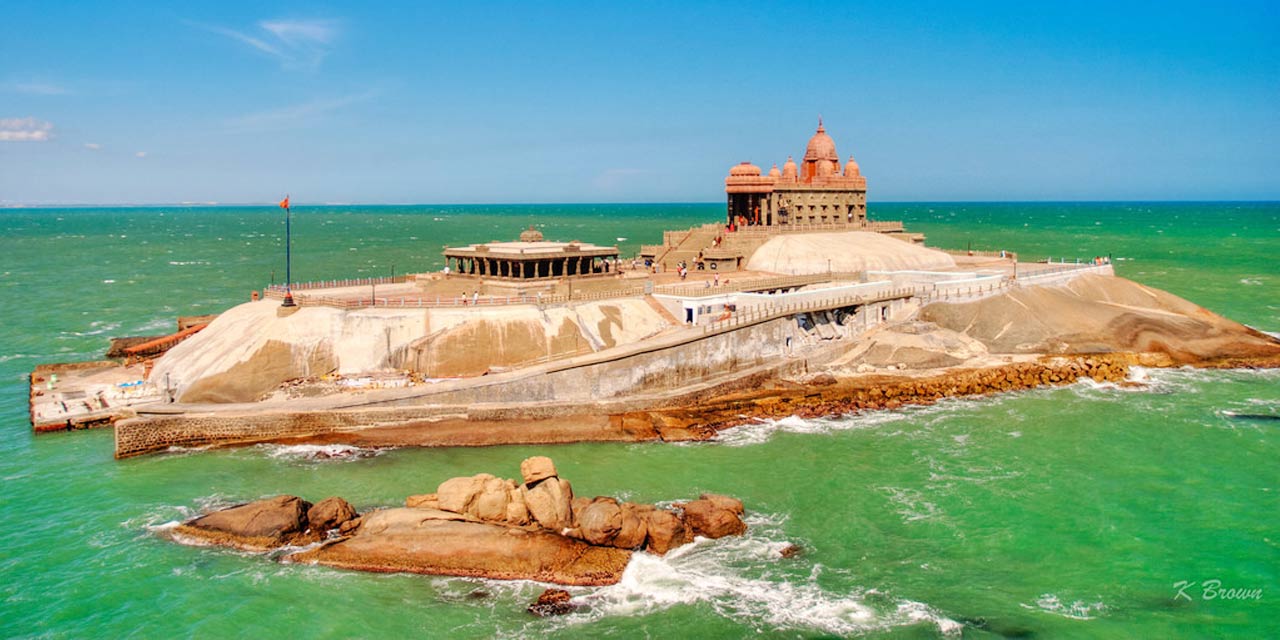 Vivekananda Rock Memorial Kanyakumari Entry Fee
20 per person
50 per person for Ferry ride
200 per person for Ferry ride (Special Ticket)
Vivekananda Rock Memorial Kanyakumari Phone
---
Rating:
| 4/5 stars
Based on total 43 reviews
Vivekananda Rock Memorial Kanyakumari Address: Vivekananda Rock Memorial & Vivekananda Kendra, Jetty, Kanyakumari, Tamil Nadu, 629702, India
---
Located 500 meters away from the mainland, Vivekananda Rock Memorial is a place of great scenic beauty, historical importance and religious significance. Undeniably one of the most popular places to see in Kanyakumari, this rock is considered to be holy as well as an architectural wonder. Vivekananda Rock Memorial is one of the two rocks located slightly away from the mainland.
On this rock, a captivating memorial of Swami Vivekananda has been built which was inaugurated in the year of 1970. This was to honour the great saint and leader of India, Swami Vivekananda who was a disciple of Ramakrishna Paramahamsa and the founder of Ramakrishna Mission. Swami Vivekananda had visited Kanyakumari in 1892, a few days before leaving for Chicago for the World Religious Conference and had then visited the rock and meditated there for two days.
The Vivekananda Rock memorial also has religious importance as it is believed that this rock has the imprint of Goddess Devi Kumari's feet and hence it is said to be blessed. Sripada Mandapam and Vivekananda Mandapam are two places to see here on the Rock memorial.
Architecture of Vivekananda Rock Memorial, Kanyakumari
Vivekananda Rock Memorial boasts of great architectural excellence. The memorial which was inaugurated in 1970 now mesmerises every visitor with its architecture. It was in 1962, when the idea of the memorial was first proposed. There are two primary mandapams- Vivekananda Mandapam and Sripada Mandapam; both these mandapams have been built in such a way that the statue of Swami Vivekananda can be seen directly from Sripadam.
Vivekananda Mandapam at Vivekananda Rock Memorial
An architectural masterpiece, Vivekananda Mandapam is quite similar in structure to Sri Ramakrishna Temple which is located in Belur, while the entrances of the memorial can trace their style from the ancient Ajanta and Ellora cave temples. The life size bronze statue of Swami Vivekananda in his 'Parivrajak' posture is alluring and one of the most attractive features of the memorial.
This mandapam has various sections. There is a meditation hall with six rooms adjoining it; it is called Dhyana Mandapam. Its spiritual atmosphere is ideal for a peaceful meditation. The assembly halls combined with two rooms, corridor, and open courtyard (prakaram) is the Sabha Mandapam. It also includes the area where the statute has been kept, called Pralima Mandapam. Another section is Mukha Mandapam. The area with front steps has two more rooms and a corridor.
Image Gallery of Vivekananda Rock Memorial Kanyakumari
Shripada Mandapam at Vivekananda Rock Memorial
It is a square hall with various sections namely Garbha Graham which is the Sanctum Sanctorum, Inner Prakaram, Outer Prakaram and Outer Platform around the hall.
History of Vivekananda Rock Memorial, Kanyakumari
The Vivekananda Rock Memorial was built in the memory of India's one of the greatest saints and leaders, Swami Vivekananda. It is the place where he has meditated. Swami Vivekananda arrived in Kanyakumari in 1892 and meditated on this rock for two days. This was a few days before his departure for Chicago to attend the World Religious Conference. It is said that at this place, Goddess Parvati has blessed Swami, who was an ardent devotee of Goddess Durga, and initiated his understanding of India, its glory and on the way to elevate it.
Eknath Ramkrishna Ranade, an ardent follower of Swami Vivekananda was the main person instrumental in the establishment of the memorial. The memorial was completed within six years with around 650 workers and was inaugurated in 1970. To spread the teachings of Swami Vivekananda, Ranade also founded an organisation called 'Vivekananda Kendra' on January 7, 1972. The Vivekanda Kendra was established beside the Vivekananda memorial.
This rock has great significance religiously as well. It is the place where Goddess Kanya Kumari has done her penance. The marks of Goddess's pious feet can be seen on the rock. There is a small projection which resembles the human feet. Hence the name Sri Pada Parai was given; a Tamil word denoting the rock which has been sanctified by the Goddess's feet. According to some beliefs, the original ancient temple of Devi Kanya was built on this rock. However, later with changing time, the rock became an island and the mainland separated from it.
Entry Fee and Timings of Vivekananda Rock Memorial
The entry fee of Vivekananda Memorial rock is Rs.20 per person. Also the charges for ferry to the rocks from the mainland are minimal at Rs.50 per person. If you wish to avoid the queue at the ferry booking, you can buy a special ticket at Rs. 200 per person where there is no waiting time. Opening timings of Vivekananda Rock Memorial is from 8 in morning to 4 in evening.
Reaching Vivekananda Rock Memorial, Kanyakumari
Reaching Vivekananda Rock Memorial is not a difficult task as it is well connected to the land. There are many ferry services that run between the island and the mainland with minimal charges. The ferry services usually operate from 8 AM to 4 PM.
Another popular tourist attraction, Saint Thiruvalluvar Statue dedicated to the great Tamil poet, Saint Thiruvalluvar is also located nearby. The ferry service to Vivekananda Rock Memorial stops for a while at the Thiruvalluvar statue and tourists often combine a visit to both the places during their Kanyakumari tour.
---
Looking for a perfect vacation destination? Book a Kanyakumari tour package with us to visit the southernmost tip of India and its famous sights. We, at Kanyakumari Tourism, a division of Holidays DNA, design all-inclusive Kanyakumari tour packages based on your budget and holiday style. If you are looking for a tailor-made package, you can contact our team of experts who will be happy to assist you. For further details, please fill the Contact Us form.
Location Map for Vivekananda Rock Memorial Kanyakumari