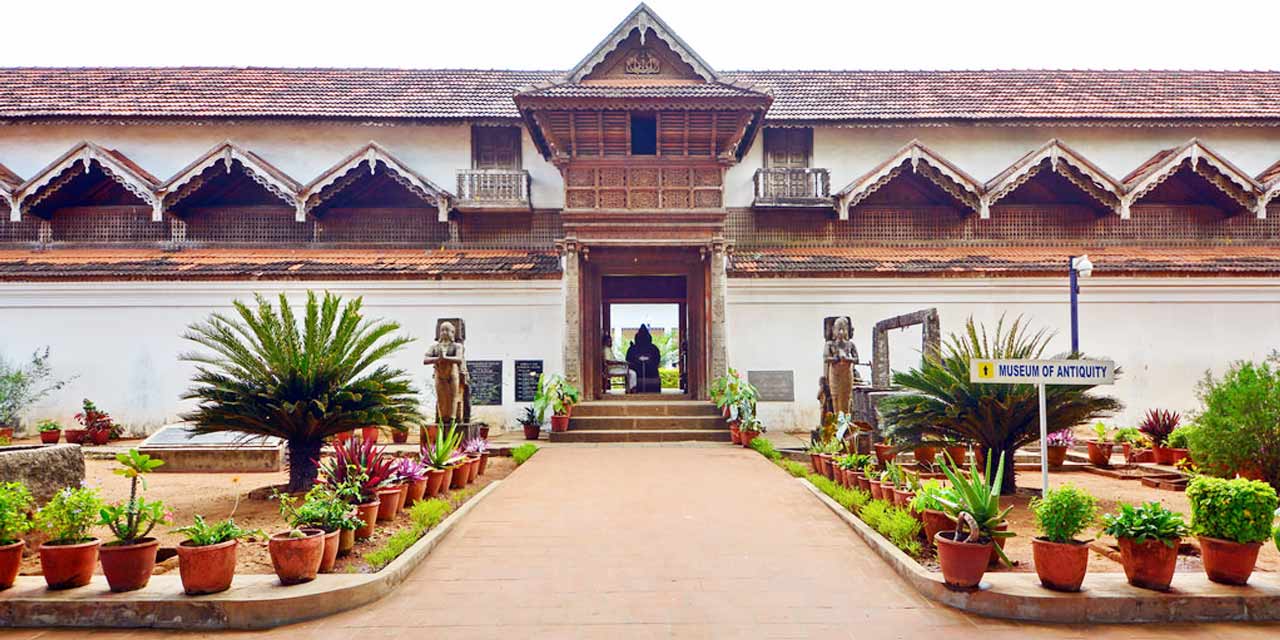 Padmanabhapuram Palace Entry Fee
10 per person for Adults
2 per person for Children
25 for Still Camera
1200 for Video Camera
Padmanabhapuram Palace Phone
---
Rating:
| 4/5 stars
Based on total 52 reviews
Padmanabhapuram Palace Address: Padmanabhapuram Village, Near Thuckalay, Kanyakumari, Tamil Nadu, 629702, India
Kanyakumari Tour Packages
Padmanabhapuram Palace Timings
Day
Timing
Monday
Closed / Holiday
Tuesday
9:00 am – 1:00 pm
2:00 pm – 4:30 pm
Wedesday
9:00 am – 1:00 pm
2:00 pm – 4:30 pm
Thursday
9:00 am – 1:00 pm
2:00 pm – 4:30 pm
Friday
9:00 am – 1:00 pm
2:00 pm – 4:30 pm
Saturday
9:00 am – 1:00 pm
2:00 pm – 4:30 pm
Sunday
9:00 am – 1:00 pm
2:00 pm – 4:30 pm
Links:
Website
|
Map
---
An ancient palace with mesmerizing architecture, Padmanabhapuram Palace is a fine example of excellence of art and craftsmanship. This wooden palace, built in 16th century is sure to allure every visitor with its unparalleled beauty. Located at the foothills of Veli Hills, a part of Western Ghats in Thuckalay, this palace was built by Ravipillai Ravivarma Kulasekhara Perumal of Travancore Kingdom.
Named after the lotus that comes out of the navel of Lord Vishnu, (Padma means lotus, nabha-navel, puram- town), Padmanabhapuram Palace used to be seat of power of erstwhile kingdom of Travancore from the 16th to the late 18th Century, which later shifted to Thiruvananthapuram. This captivating place with breathtaking architecture is a must visit when on Kanyakumari tour.
Although this palace is located in Kanyakumari of Tamil Nadu state, it comes under the administration of archeological department of Kerala.
Architecture of Padmanabhapuram Palace, Kanyakumari
Padmanabhapuram Palace has intricate carvings and fine finishing that still captivates every visitor. The interior of the palace is absolutely breathtaking. Detailed rosewood and teak wood carvings, carved columns holding oil lamps, huge earthen urns, and jackfruit tree columns, colored mica on the windows, Chinese carvings on royal chairs, 17th and 18th century murals, Belgian mirrors, and intricate paintings on the ceilings will leave you awestruck.
Every part of the palace, varying from Dance halls, museums, council chamber, dining halls, Queen Mother Palace, inner courtyards to the King's room, presents a creative interior with admirable art works.
The main entrance of the palace is from the west side which can be reached after passing through a vast courtyard. The most beautiful part of the palace is the council chamber, known as Manthrasala, with colored mica windows and floors with unique impeccable finishing. Its floor, with shimmering shine has been made with a unique combination of egg white, lime, coconut, charcoal, river sand, jaggery, etc.
Another prominent part of the Padmanabhapuram Palace is the Queen's Mother Palace, known as Thai kottaram. It is also the oldest part of the palace, built in 1550. Built in the Kerala style of architecture, its painted and carved ceilings present floral motif of more than 90 varied kinds. It also has an inner courtyard, called 'nalukettu' along with a small chamber known as ekantha mandapam.
The audience hall of the palace which is comparatively the newest addition to the palace was built during the year of 1829 to 1846. The dining hall of the palace has the capacity to accommodate around 1000 people. There is also secret passage in the palace that was built to take royals, in case of an assault, to a palace located 2 km away.
In the center of the palace complex there is four storied building. The first of this building houses the King's room, while the ground floor had the royal treasury. In the King's bedroom, there is a four poster medicinal bed. It is said to be built with 64 different kinds of woods with healing properties. The fourth floor of the building, known as Upparikka Malika, houses a meditation hall and royal shrine; the walls of this section are decorated with 18th century murals and the scenes from Puranas.
The Southern Palace, known as Thekee Kottaram has an archaeological museum in the first courtyard of the palace, displaying a wide array of artifacts, furniture, coins, ancient armaments, granite and wooden sculptures, copper plates with inscriptions, etc.
Timings of Padmanabhapuram Palace, Kanyakumari
The entry timings of Padmanabhapuram Palace are 9 AM to 4:30 PM. It is open on all days of the week except on Mondays. It is also closed on national holidays. To enter the palace, visitors are required to leave their footwear outside. Any kind of footwear is not allowed so as to maintain the polish of the palace floors.
Reaching Padmanabhapuram Palace, Kanyakumari
Padmanabhapuram Palace is easily accessible by road. Along with Kanyakumari, this palace enjoys proximity to various other cities as well.
It is located at a distance of 37 km from Kanyakumari and 50 km from Thiruvananthapuram in Kerala. From Nagarcoil it is around 20 km away. The nearest railway station to the palace is Nagarcoil railway station. Tourists can go to the palace by either using public road transport or by their own vehicle.
Image Gallery of Padmanabhapuram Palace, Kanyakumari
Location Map for Padmanabhapuram Palace Kanyakumari