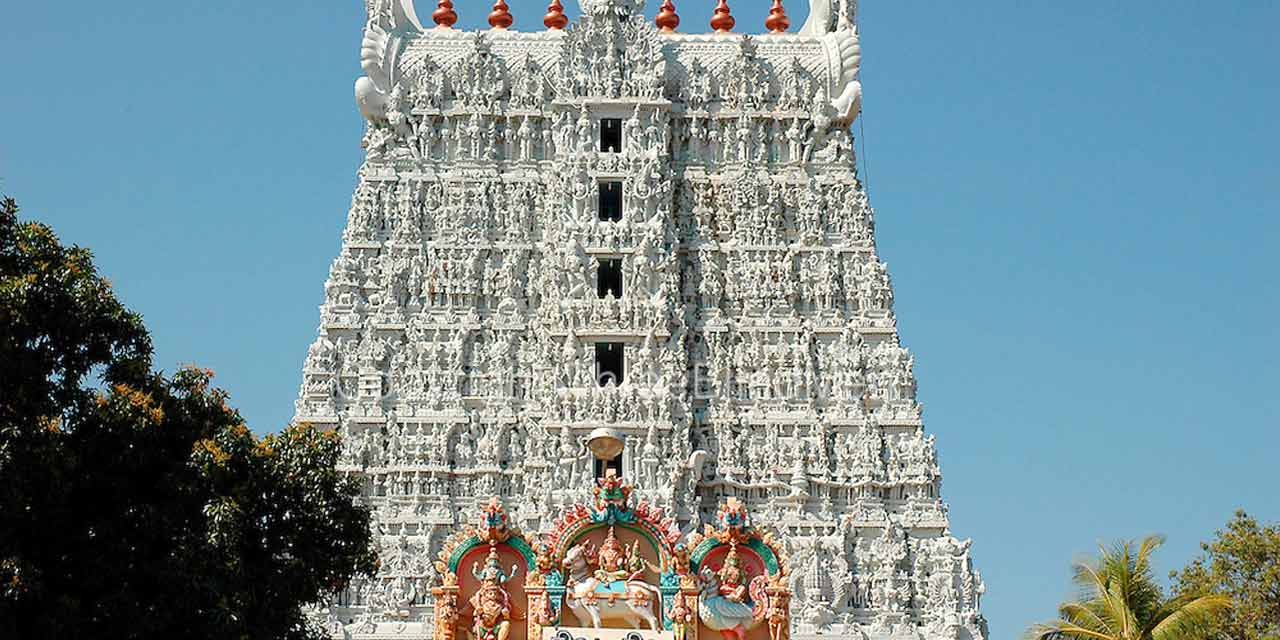 Suchindram Anjaneyar Temple Kanyakumari Entry Fee
Suchindram Anjaneyar Temple Kanyakumari Phone
---
Rating:
| 3/5 stars
Based on total 54 reviews
Suchindram Anjaneyar Temple Kanyakumari Address: Kanniyakumari District, Suchindram, Tamil Nadu, 629704, India
Kanyakumari Tour Packages
Suchindram Anjaneyar Temple Kanyakumari Timings
Day
Timing
Monday
4:30 am – 11:30 am
5:00 pm – 8:30 pm
Tuesday
4:30 am – 11:30 am
5:00 pm – 8:30 pm
Wedesday
4:30 am – 11:30 am
5:00 pm – 8:30 pm
Thursday
4:30 am – 11:30 am
5:00 pm – 8:30 pm
Friday
4:30 am – 11:30 am
5:00 pm – 8:30 pm
Saturday
4:30 am – 11:30 am
5:00 pm – 8:30 pm
Sunday
4:30 am – 11:30 am
5:00 pm – 8:30 pm
Links:
Website
|
Map
---
Suchindram Temple also known as Thanumalayan Temple is located in Suchindram district of Kanyakumari, at a distance of around 11 km from Kanyakumari. The striking aspect of this temple is that it is dedicated to the Trinity of God, Lord Shiva, Lord Vishnu and Lord Brahma. Owing to this, it has high religious importance to devotees belonging to both Shaivite and Vaishnavite sects.
Also known as Sthanumalayan Perumal Temple, it consists of around 30 shrines and presents captivating architecture. The deity in the temple, Sri Sthanumalayan represents Sthanu means Lord Shiva, Mal symbolizes Lord Vishnu and Aya symbolizes Lord Brahma. This temple is also known with the name of Suchindram Lord Anjaneyar Temple.
History of Suchindram Temple, Kanyakumari
The ancient Suchindram Temple is said to be built in 17th Century. However, a few part of the temple can be traced back to 8th century to 15th Century. The inscriptions of the temple dates back to 9th Century.
Before the merger of Kanyakumari in the Tamilnadu State, Suchindram Temple came under the administration of Travancore Kingdom. The main temple of Travancore kingdom was at Padmanabhapuram. This temple is Vaishnavite. While in Nagercoil which was earlier under the control of Cholas, Chera and Pandya Reign, most of the residents were Shaivites. Hence, this temple presents a beautiful site where both Lord Shiva and Lord Vishnu as well as Lord Brahma is worshipped. The worship at this temple is taken care of by the families of Namboodiri Brahmin.
Architecture of Suchindram Temple, Kanyakumari
Suchindram Temple of Kanyakumari is known not only for its religious significance but also for its alluring architecture. Its structural excellence allures everyone.
This temple has a white Gopuram of seven stories with its portico adorned with finely sculpted images of various deities. This 134 foot high Gopuram appears all the more astonishing as light rays fall on it, presenting a fine example of the architecture styles of South Indian temples. To the right side, there is huge temple tank; water from here is used for temple activities.
Major attractions of this temple are the four musical pillars with a height of 18 feet. These pillars have been carved out of a single granite stone. Located in the area of Alankara Mandapam, these pillars when struck create various musical notes, presenting exceptional example of architecture.
The temple has a dancing hall as well with around 1035 beautifully carved pillars.
The presiding deity, Sthanu (Lord Shiva), Mal (Lord Vishnu) and Aya (Lord Brahma) are in the sanctum sanctorum of the temple. By the side of sanctum sanctorum, there is a shrine for Lord Vishnu; the idol of the Lord has been made by combining eight different kinds of metals. On to the right side, there is shrine of Lord Rama and Goddess Sita, while on the left side is the shrine of Lord Ganesha. On the front, there is Navagraha mandapa. There are around 30 shrines in this temple including of those of Kailasanathar, Nataka Sala, Vadakkedam, Kailasattu Mahadeva, Pancha Pandavar, Kontai Adi, Guru Dakshinamurthy, Cheravasal Sastha, Lord Muruga, Garuda, Subramania Swamy and many more.
The massive idol of Lord Hanuman at a height of 22 feet is sure to allure every devotee here. The statue has been carved out of single granite rock. This state of Lord Hanuman, which is one of the largest statues in India, was kept hidden in the temple as attacks from Tipu Sultan were feared. Later in the year of 1930, it was found and was subsequently restored to it previous glory. Another striking aspect is the carving of Vinayaki (Female Vinayaka) in the temple. Majestic Image of Nandi, vehicle of Lord Shiva is also captivating with a height of 13 feet and length of 21 feet and width of 10 feet.
Legend behind Suchindram Temple, Kanyakumari
There are many legends behind Suchindram Temple. According to one of the popular story of the Suchindram Temple, one day the holy Trinity, Lord Shiva, Lord Brahma and Lord Vishnu arrived here at the ancient temple. Devi Anusaya, who is wife of saint Atri lived here. Trinity, decided to test Anusaya. Hence, in the absence of Sage Atri, They went to Anusaya, a chaste woman, in the guise of three sages and asked for food. However, when offered food and lams m, they refused stating that they have vowed to take offerings only from people who are not clothed. As it was considered as sin to refuse a help of offering to seeker, she decided to offer them food and fulfill their demand. She sprinkled holy water on all the three sages and turned into babies; Shiva as Durvasa, Vishnu as Dattatreya and Brahma as Chandra. It was then she fulfilled their demands and fed all the three babies. Seeing this, Goddess Saraswati, Goddess Parvati and Goddess Lakshmi came down and asked to return their husband in their original form. All the three Gods were turned into their original form after this. While leaving for their holy abode, all Trimurthi, on the request of Anusaya, manifested as Swayambhu Lingas, under the Amaltas tree, known as Sthala Vriksham, which is now more than 2500 years old. A small shrine, has been constructed Konnaya in front of this holy tree.
There is another legend that connects this temple and the town to the Devi Kanyakumari Temple. As per the legend, Lord Shiva has stayed in Suchindram when he had come to marry Devi Kanyakumari. He started from here for the wedding that was scheduled to be at an auspicious time in night. It was when he reached Vazhukkamparai, which is around 5 km away from Suchindram, Sage Narada guised as rooster has falsely crowed to indicate the onset of morning. Believing that the auspicious moment has passed, Lord Shiva has returned to Suchindram without marrying the Devi.
Another story of Suchindram Temple is about the decade old ritual that was practiced at the temple. The practice of Agnipariksha was performed at the temple till 1860s until it was banned by the government. As per the ritual, any Brahmin or priest, when suspected of any unacceptable behavior, was required to go through a ritual. With the permission of the King, the suspected person was required to dip his hand in the boiling ghee that was kept in copper vessel and take out the silver ox which was kept inside. His hand was then covered in a cloth and bandaged. If the Brahmin's hand comes out unscathed on the third day, he is proven innocent.
Suchindrum Temple Festivals
The most popular festival of Suchindram Temple is the 10 day long car festival which is celebrated during the month of December or January. Other prominent festivals of the temple are Avani Festival in the month of august, Chithirai Festival in the month of April and Masi Festival in March month.
Timings of Suchindram Temple, Kanyakumari
The darshan timings of Suchindram Temple are from 4.30 to 11.30 in morning. The temple again opens for darshan in evening at 5 PM and closes at 8.30 PM.
Reaching of Suchindrum Temple, Kanyakumari
Suchindram Temple is located at a distance of 11 km from Kanyakumari and can be reached via road easily. It is around 7km away from Nagercoil. There are regular buses to Suchindram from Kanyakumari as well as from Tirunelveli and Trivandrum. Tourists can also hire a taxi and visit the temple from Kanyakumari.
Image Gallery of Thanumalayan / Suchindram Anjaneyar Temple, Kanyakumari
Location Map for Suchindram Anjaneyar Temple Kanyakumari