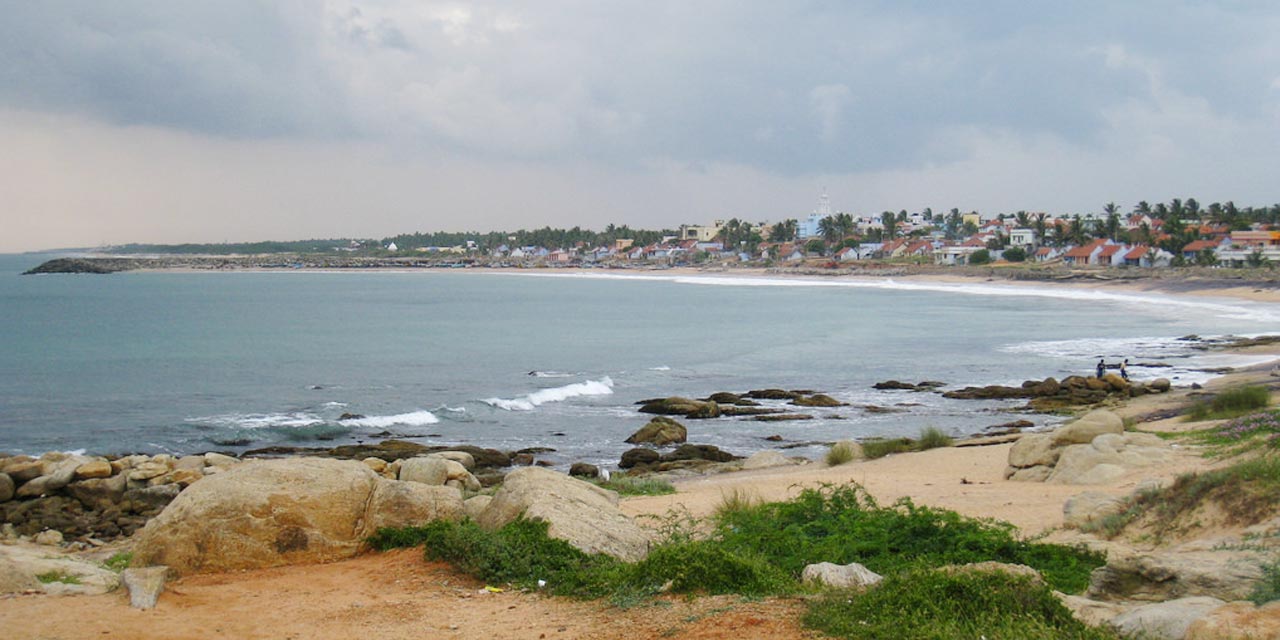 Kanyakumari Beach Entry Fee
N/A
Kanyakumari Beach Phone
N/A
---
Rating:
| 3/5 stars
Based on total 65 reviews
Kanyakumari Beach Address: Kanyakumari, Tamil Nadu, 629702, India
---
Kanyakumari, the ancient town of temples has equally mesmerizing beaches. Presenting vast spread of shimmering sand and the confluence of three great oceans, Kanyakumari beach is one of the most popular sightseeing places in Kanyakumari. It was previously known with the name of Cape Comorin Beach.
One of the major attractions of Kanyakumari beach is the multi colored sand, which is quite rare to find anywhere else in India. The view of differently colored sand, shining as the rays of Sun fall on them, looks nothing less than postcard picture. Located on the southernmost part of India, Cape Comorin Beach is also known for its special feature of having the convergence of Indian Ocean, Arabian Sea and Bay of Bengal.
Although this beach promises mesmerizing scenic beauty throughout day and night, it is best to visit for sunrise and sunset here. The sunset and sunrise at Kanyakumari Beach, when the sand glistened in red colour, is absolutely stunning. Do carry your camera when visiting the beach as the view is worth capturing. Equally enchanting are the full moon nights at this beach. Lighthouse at the beach offers a perfect view of the entire ocean and the surrounding areas.
Activities at Kanyakumari Beach
Kanyakumari beach is rocky; hence it is not suitable for swimming. While playing in the sea waves too one must be careful. There is a stone wall that runs along the seashore. Tourists are usually asked to stay away from the rocks. This beach is ideal to sit and admire the view around.
When at the beach, tourists can buy varieties of sea shell items from the small shops located at the beach.
When at this beach, you can also plan a visit other tourist attractions that are located here such as Vivekananda Rock Memorial, Devi Kanyakumari Temple and Sangam.
Religious significance of Kanyakumari Beach - Triveni Sangam
Triveni Sangam is the confluence of three oceans, namely Bay of Bengal, Arabian Sea and Indian Ocean. Steps have been built for devotees to step down and have their feet dipped in the holy water of the Sangam. Many devotees sprinkle the holy water from here on them and seek heavenly blessings.
This beach is religiously associated with Bhagavathi Amman; there is a Kanyakumari Bhagavathi Amman Temple located nearby. According to some beliefs, Kanyakumari beach is also related to Devi Kanyakumari, who is an incarnation of Goddess Parvati.
Image Gallery of Kanyakumari Beach / Cape Comorin Beach
Location Map for Kanyakumari Beach