Kanyakumari, the ancient town with historical richness, has great religious significance too. Its location of being the southernmost part of India adds further charm to it. Kanyakumari tour, with its wide array of choices, is ideal for every. With an extensive range of interesting places to visit, you need not worry on what to see in Kanyakumari as well. Below are the most popular places to visit in Kanyakumari.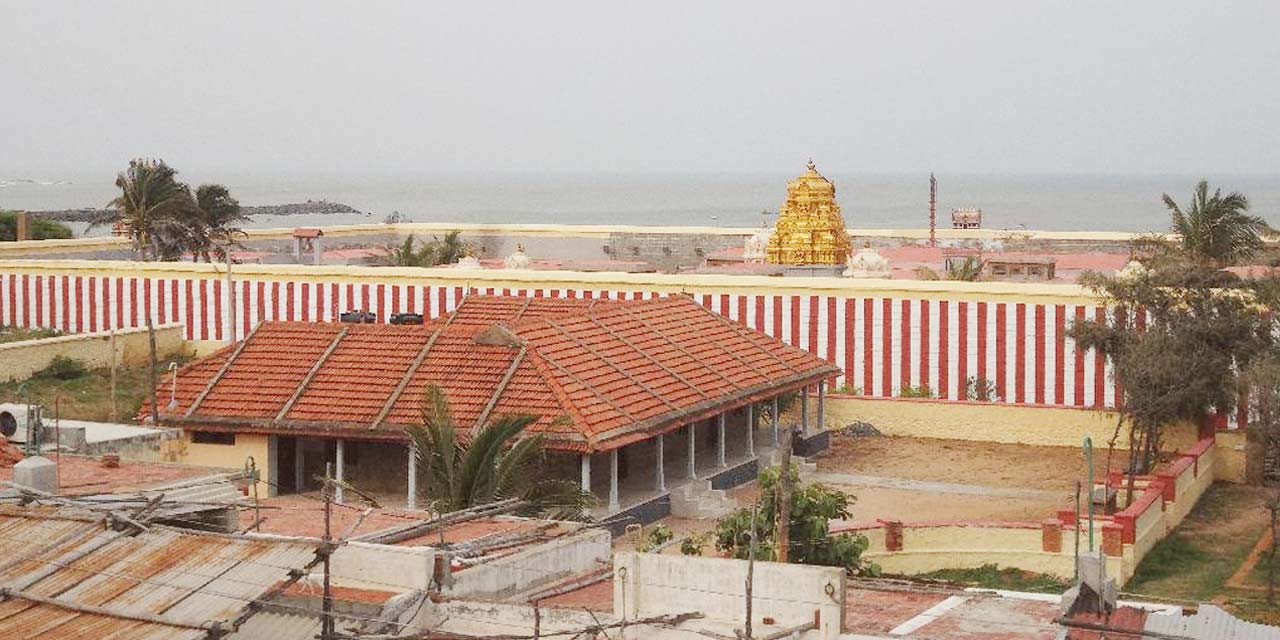 Dedicated to Goddess Kanya Kumari, the virgin goddess, this temple is one of the 108 Shakti Peethas. Also known as Bhagavathi Amman Temple, Devi Kanyakumari Temple is an ancient temple, more than around 3000 years old. Its description can be found it many ancient Hindu texts, including Hindu religious epics such as Mahabharata and Ramayana and in Sangam Literature.
As per the legend of this temple, Goddess Parasakthi, on the request of devas, took the form of a Goddess Kanya Kumari, to kill demon Banasura who had the boon that he cannot be killed by anyone but a virgin. Kumari Amman Temple, located on the shores of Kanyakumari, is known for its marvelous architecture as well. Another striking feature of the temple is the nose ring of Goddess Kanyakumari idol. There are many stories related to its incomparable shine as well. There are 25 otter theerthams as well on the shores around the Kanyakumari temple.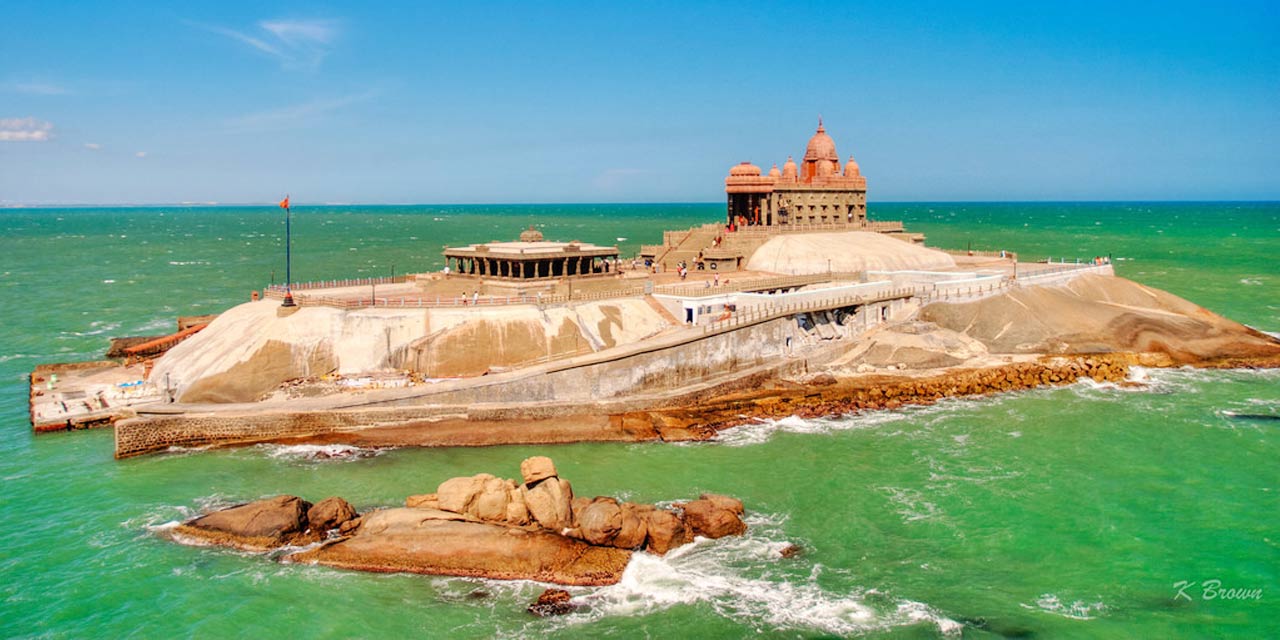 Another popular place to see in Kanyakumari is the Vivekananda Rock Memorial. This rock is situated 500 meters away from the mainland and can be reached via ferry that operates at regularly intervals. Vivekananda Rock Memorial was built in 1970, in the honor of great Indian saint Swami Vivekananda, who has visited Kanyakumari in 1892. Swami Vivekananda had meditated on this rock for two days; this was a few days before his trip to Chicago for World Religious Conference. Also known as Vivekananda Mandapam, this rock memorial presents architectural beauty, with its structure resembling to the Sri Ramakrishna Temple of Belur.
This rock is also religiously significant as it is blessed with foot imprint of Goddess Kanyakumari. Hence, along with visiting rock memorial, people here visit to seek blessings at Sripada Mandapam. The scenic beauty of this place is equally enchanting.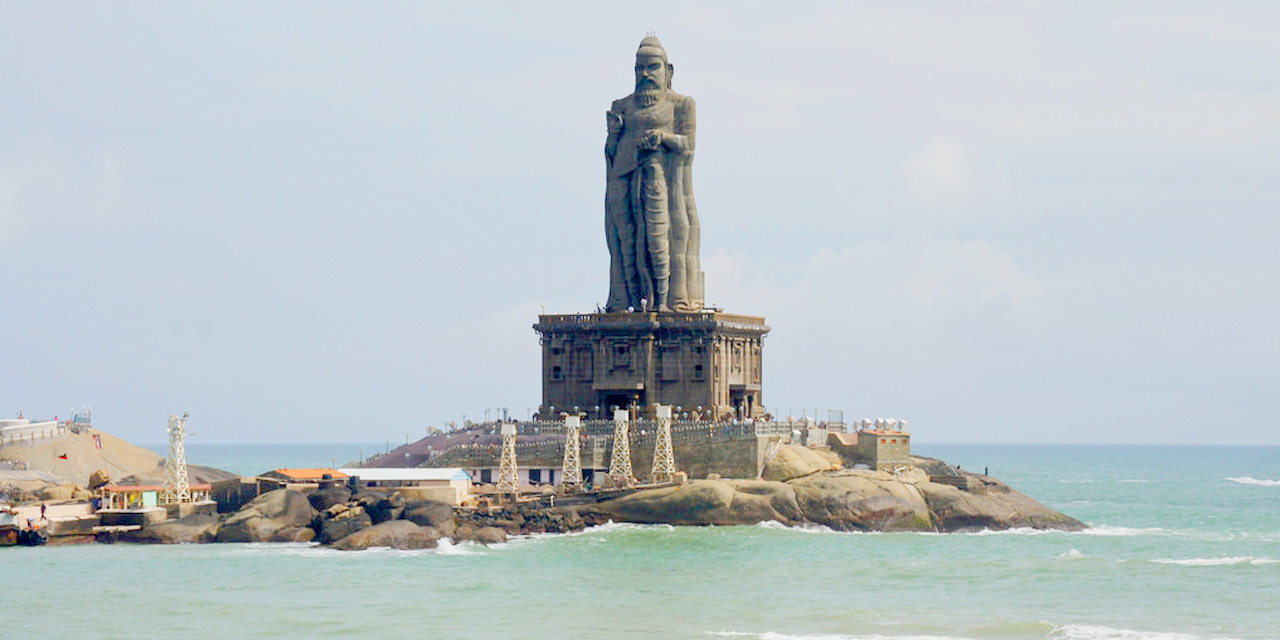 No Kanyakumari tour is complete without visiting the majestic statue of Saint Thiruvalluvar. Built by Indian sculptor Dr. V. Ganapati Sthapati, this 133 feet long statue of great saint, poet and philosopher Thiruvalluvar, amid the vast spread of ocean presents a captivating view. This sky touching statue weighs around 7000 tonnes. It can be reached from mainland (400 meters) via ferry boats.
Thiruvalluvar Statue has been built 133 feet long so as to represent the 133 chapters of masterpiece Thirukkural. It has 38 feet long pedestal, which is symbolic of 38 chapters of virtues in Thirukkural.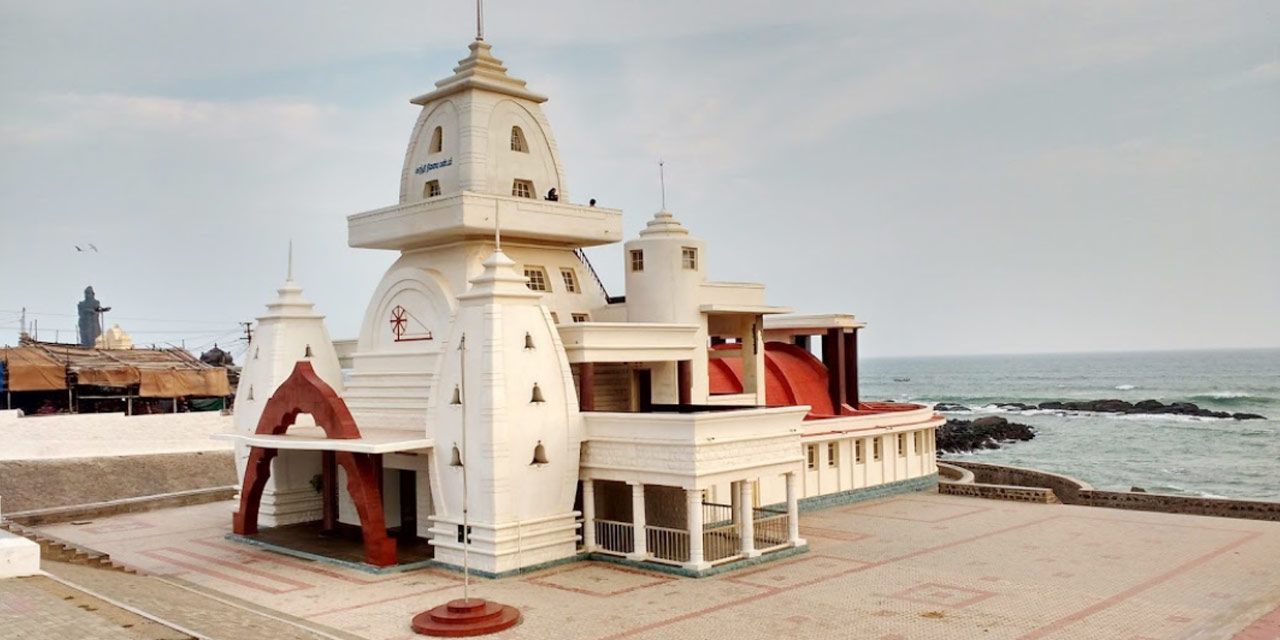 Built in the honor of father of nation, Mahatma Gandhi, Gandhi Memorial is the place where ashes of Mahatma Gandhi were kept after his unfortunate demise in 1948. He had earlier visited Kanyakumari in 1925 and 1937.
After his demise, Mahatma Gandhi's ashes were kept in 12 different urns and transferred to different cities and towns of the country, before the immersion. One of the 12 urns was kept here in Kanyakumari for a few days for the public to pay homage, later the ashes were immersed in the ocean.
Mahatma Gandhi Memorial has been built in the Orissa style of architecture with a 79 feet high portico. The 79 feet of the porch is symbolic of the 79 years of Gandhi ji. Another attractive feature of the memorial is that on 2nd October, Sun rays fall precisely on the place where his ashes were kept.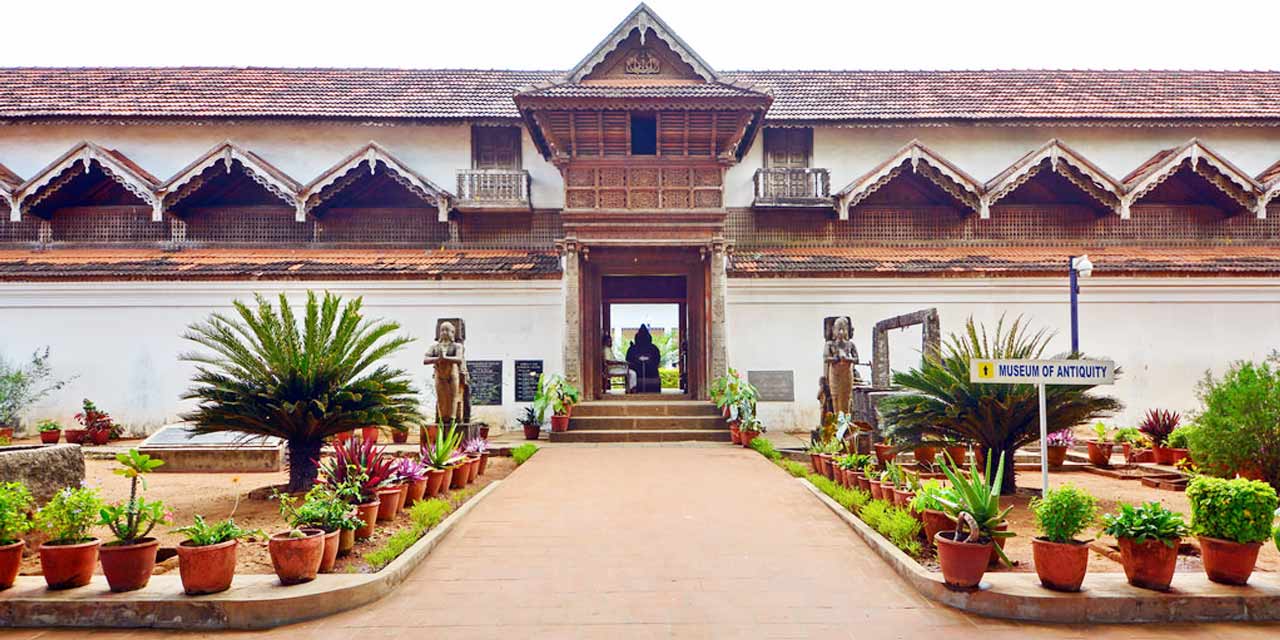 Built in 16th century, Padmanabhapuram Palace is situated at Veli Hills. This wooden palace was built by Ravipillai Ravivarma Kulasekhara Perumal during the reign of Travancore Kingdom. During 16th to 18th century, this palace was the seat of power of Travancore Kingdom. Later the kingdom shifted its base to Thiruvananthapuram, Kerala.
Padmanabhapuram Palace is located in Thuckalay, at a distance of 37 km from Kanyakumari. From Nagarcoil it is about 20 km away. It is maintained by the archeological department of Kerala, in spite of being in Tamil Nadu state.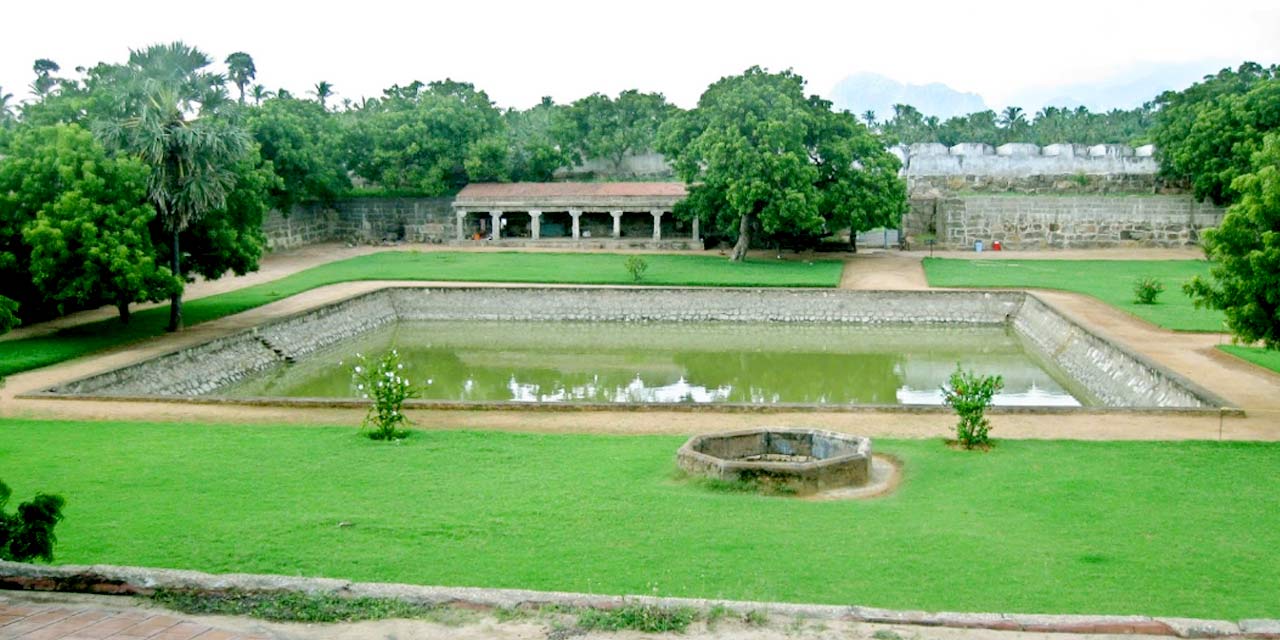 Built in 18th century, Vattakottai Fort is the last of the coastal forts of Travancore Kingdom. Although known as Circular Fort, it has rectangular shape. Under the administration of Captain Eustachius De Lannoy, Vattakottai Fort was built to serve the purpose of coastal defense. It was during the Travancore King Marthanda Varma reign (1729- 1758), when this fort was built. Impressive structure of this fort is consisted of various sections such as weapon rooms, watchtowers, etc. The fish motif that can be seen on the fort walls are indicative of the fact that it was under the pandya reign as well for some time.
Now under the maintenance of Indian archaeological department, this fort has been declared as heritage site. Another reason that makes it a place to must visit in Kanyakumari is the black sand beaches near the Vattakottai Fort.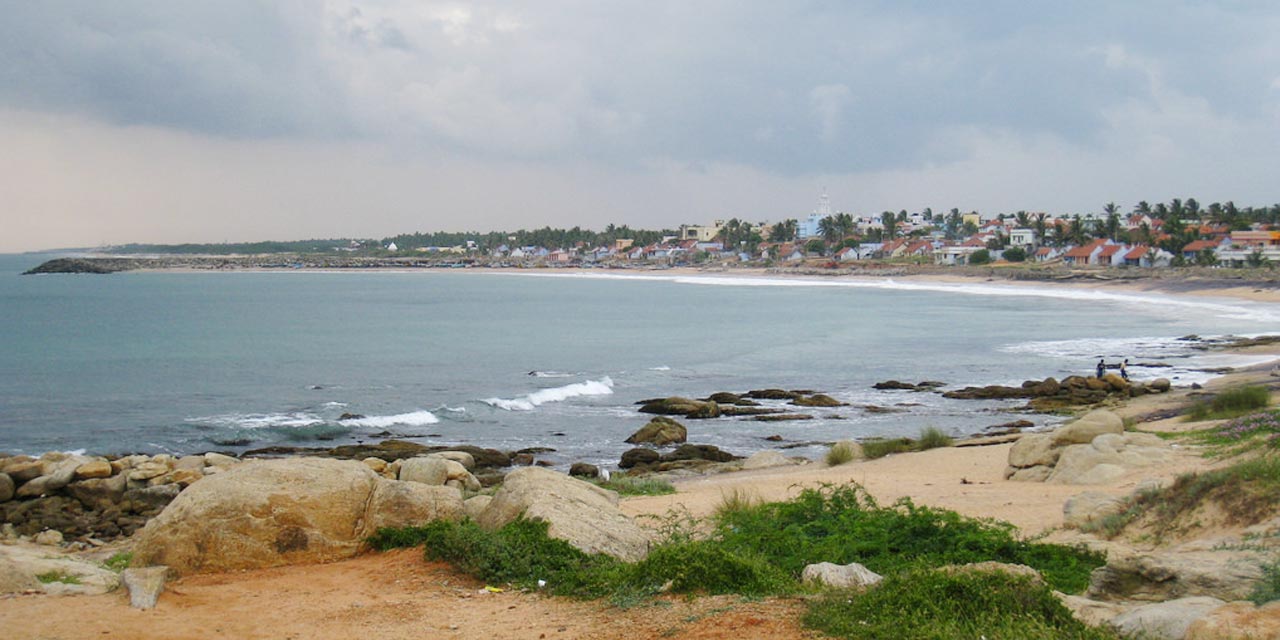 There are not only architectural and cultural places to see Kanyakumari, this town boasts of equally captivating scenic beauty too. Kanyakumari Beach, with its shimmering beach of multi-coloured sand is indeed a sightseeing place to visit in Kanyakumari.
Previously known as Cape Comorin Beach, This beach is widely known for its breathtaking sunset and sunrise. Full moon nights are especially alluring too. It is also the place where three seas- Indian Ocean, Arabian Sea and Bay of Bengal merge with each other. The confluence is regarding to be holy and is known with the name of Triveni Sangam. The view of the surrounding areas and the ocean from the lighthouse is worth capturing.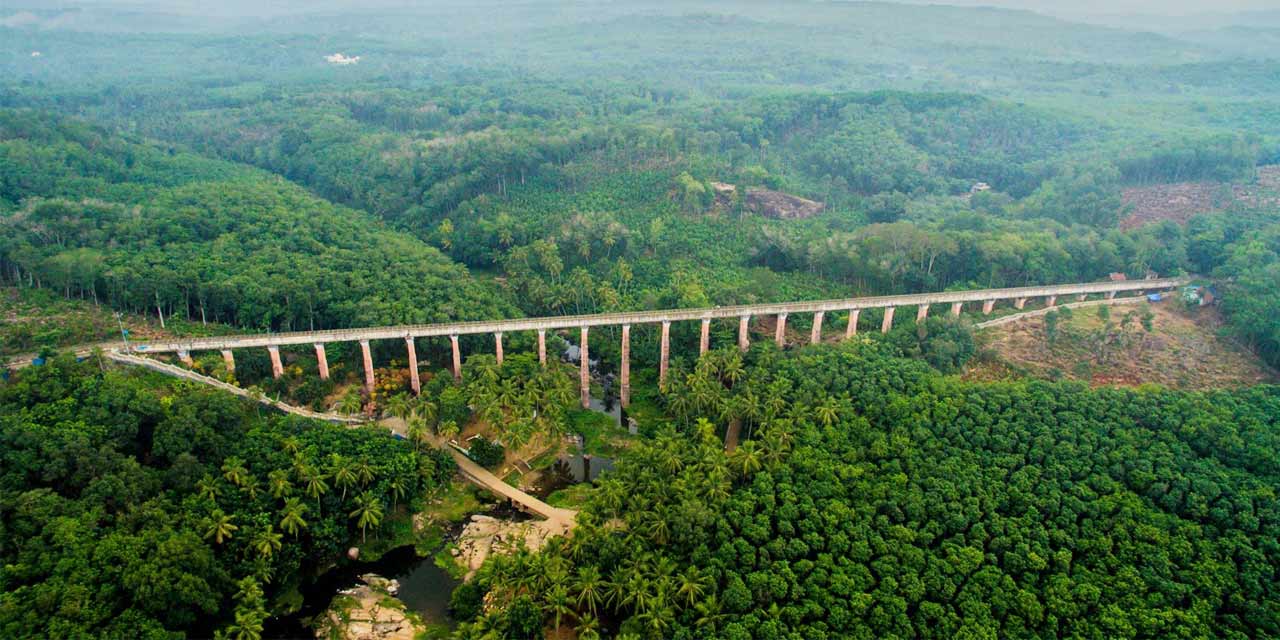 Located in Mathur village which is around 48 km away from Kanyakumari, Mathoor Hanging Bridge is another important part of Kanyakumari tour. Mathur Hanging Bridge is known for being the highest bridge with a height of 115 feet, standing on 28 sturdy pillars, as well as the longest bridge in Asia with 1 km of length. Mathoor Hanging Bridge, also called as Mathur Aqueduct, was built to provide relief from drought in nearby areas as well as to provide support for irrigation.
A popular place to see, it is often visited by tourists looking for relaxation amid lush green nature. A children park has also been developed in this area. There is a staircase that has been built for tourists to climb down to the park. Thirparappu Waterfalls are located just 3 km away from the bridge so a visit to both these places can be clubbed together.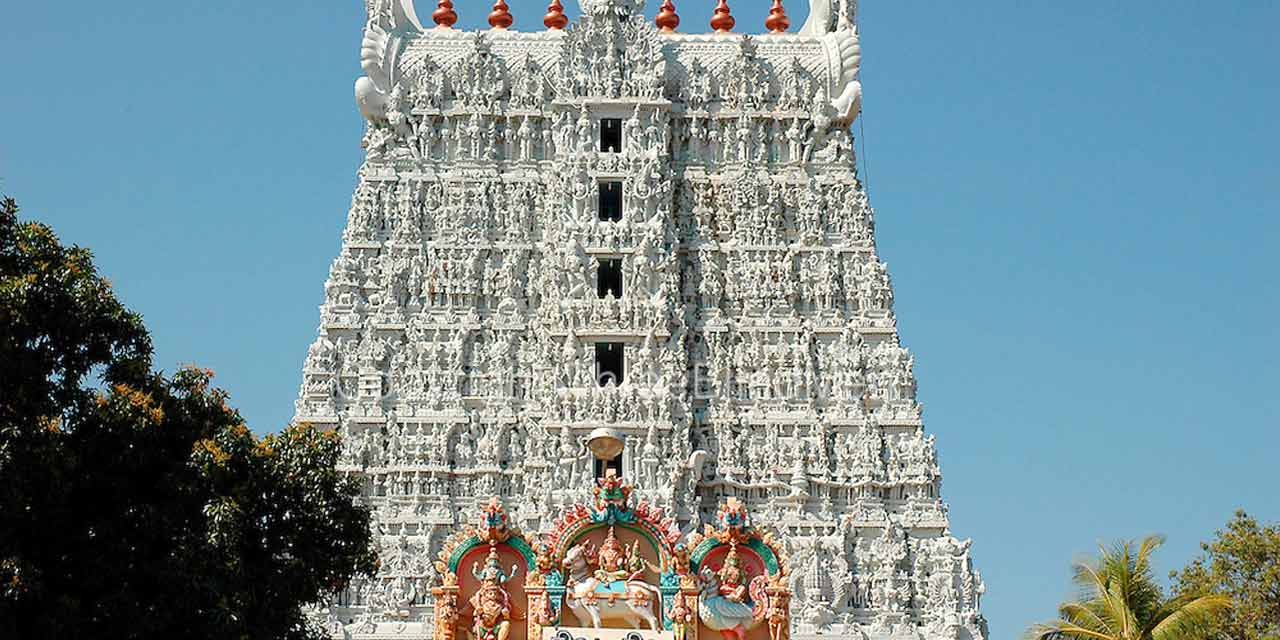 At a distance of 13 km from Kanyakumari, Thanumalayan Temple is visited by almost every visitor in Kanyakumari. Also known by the name of Sthanumalayan Perumal Temple, it is dedicated to the holy Trimurti- Lord Shiva, Lord Vishnu and Lord Brahma, holding high significance among both Shaivite and Vaishnavite devotees. This temple was built in 17h century while the inscriptions on the temple date back to 8th century as well.
Thanumalayan Temple has 30 different shrines. 22 feet high statue of Lord Hanuman is one of major attractions of this temple. Built out of single granite rock, this statue is one among the largest Hanuman statues in India. It is also known with the name of Suchindram Anjaneyar Temple.
10. Sripada Parai
Next to the vivekananda Rock Memorial is the Sripada Parai. Is the imprints of Goddess Kanya Kumari Feet. Hence, it is considered to be sacred and is visited by almost every devotee who comes to Kanyakumari. This rock is blessed, and hold high religious significance. Travelers visiting Vivekananda Rock Memorial, visit this holy shrine as well to offer their prayers.
11. Udayagiri Fort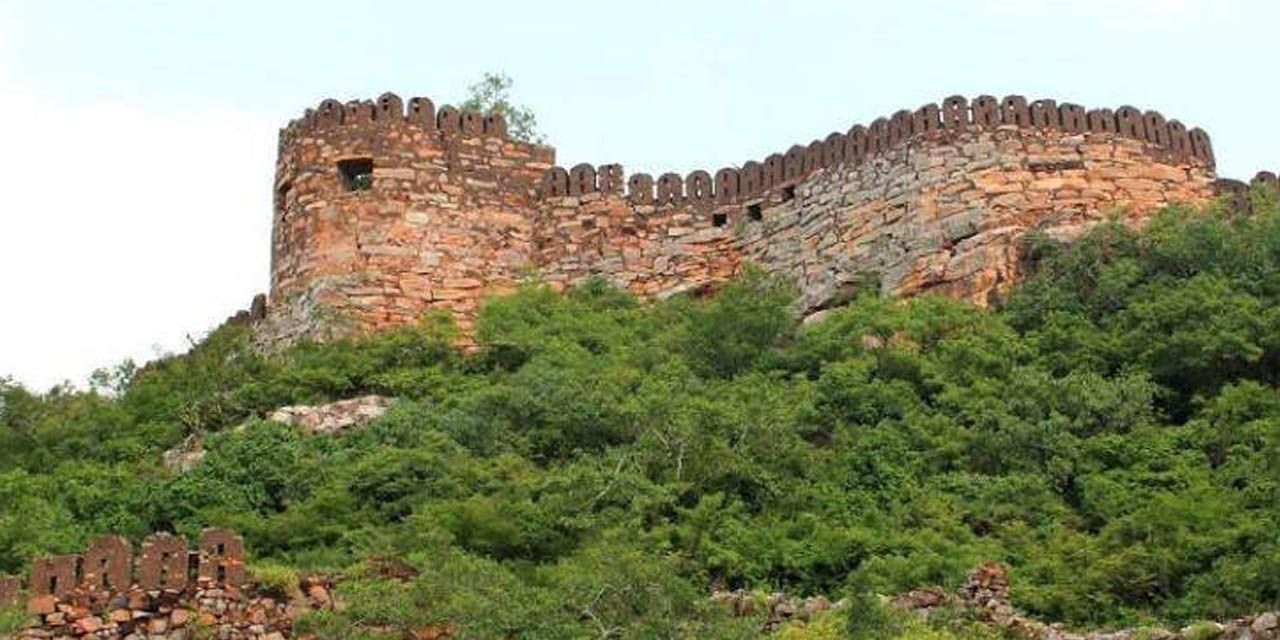 Another place to visit in Kanyakumari is Udayagiri Fort, which is located at a distance of 34 km from Kanyakumari. It is around 14 km away from Nagarcoil. It was built in 18th century, during the rule of King Marthanda Varma of Travancore Kingdom. Spread across an area of 90 acres, it stands majestically on an isolated hill of 260 feet height.
Originally the Udayagiri Fort was built in 15th century, while in 18th century it was rebuilt by the King Marthanda Varma. Eustachius De Lannoy, who was Chief of the Travancore Army, supervised the construction of this fort, in his honor the fort was also used to be known called as Dillanai Kottai which means De Lennoy's Fort. This fort also has tombs of the Dutch Admiral Eustachius De Lannoy, his wife and son. At the same site, a chapel was also built.
Udayagiri Fort has been converted into a bid diversity park, while the tombs of De Lannoy along with other prominent remains of the fort are being protected under the Archaeological Department of India.
12. Nagaraja Temple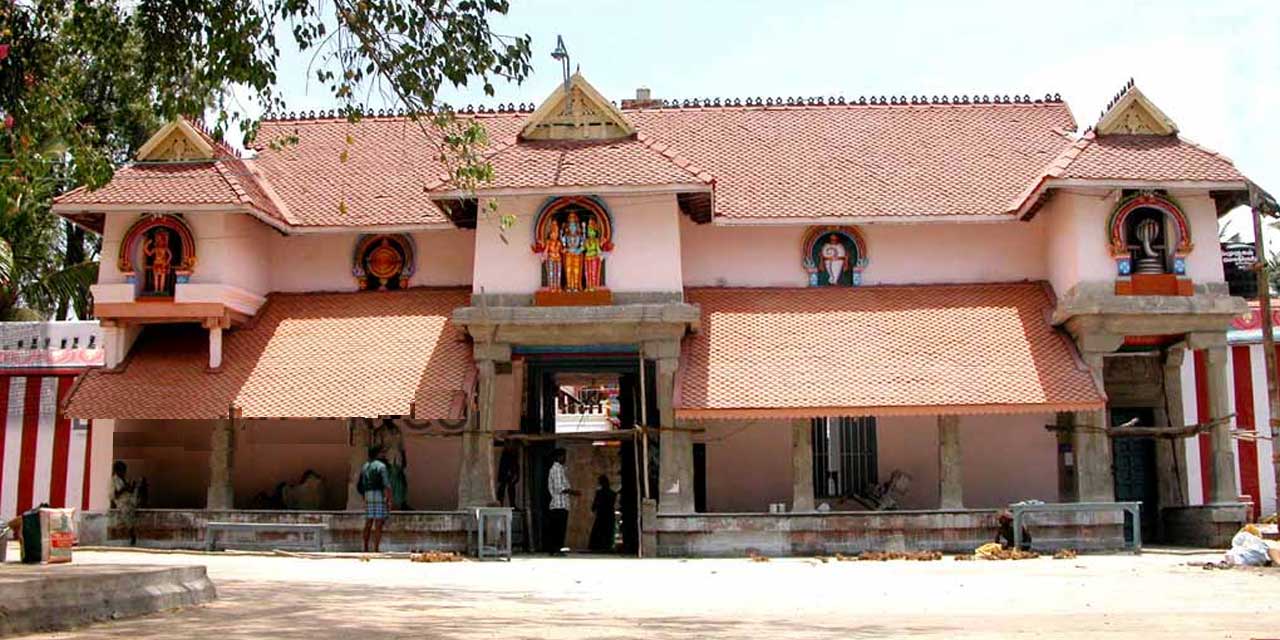 Located in Vadiveeswaram Village in Nagercoil, Nagaraja Temple is at a distance of 18 km from Kanyakumari. The name of the region as Nagarcoil is also said to have derived from this temple. Visited by devotees from various parts of the country, this temple is dedicated to five headed Serpent Lord Nagaraja.
This temple is said to be protected by many snakes, which are said to have never hurt any devotee which is undeniably one of the most interesting aspects of this temple. Another striking feature of this temple is the place where the idol of Nagaraja is seated is wet throughout the year. The sand at this place is considered to be auspicious. It is popularly said the sand here remains black for 6 months and white for another 6 months of the year.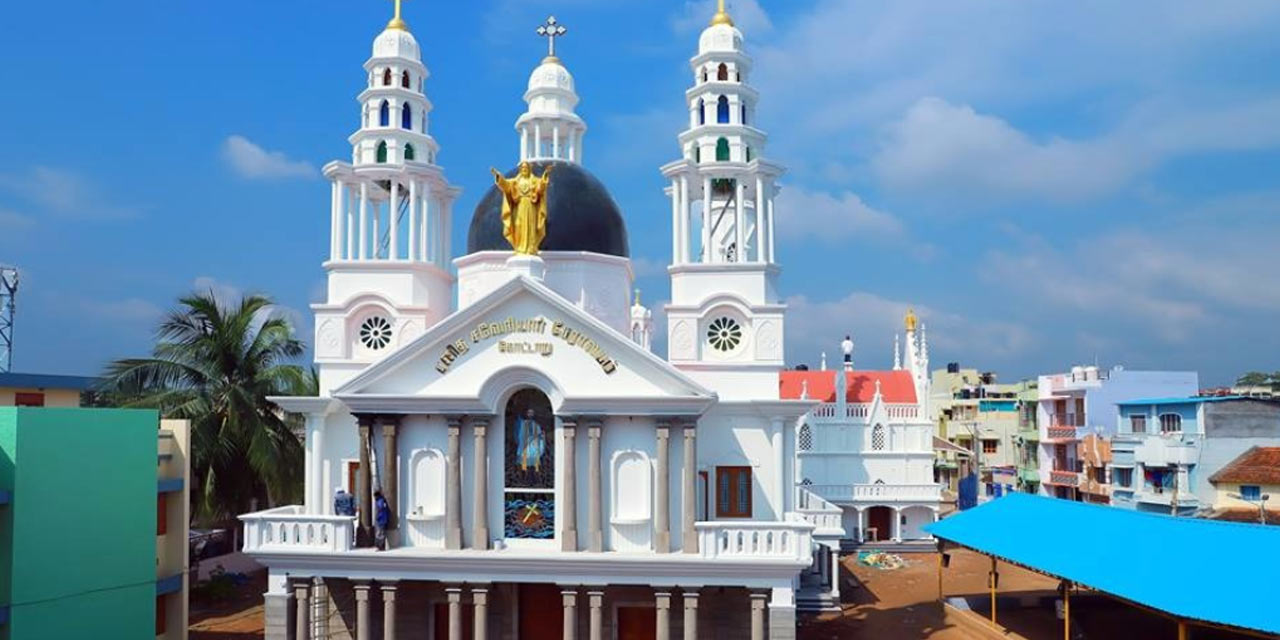 Located in Kottar, Nagercoil, St. Xavier Church is located around 16 km from Kanyakumari. It was built in 15th century. In 1865, this church was renovated and expanded. It was in 1930 when St. Xavier church was given the status of Cathedral.
This church was built in the honor of St. Xavier, who had prevented the invasion of Padagas on the people of Venad, during his stay in Kottar, where he used to travel frequently from Goa. This act of his was appreciated by the King who gifted him a piece of land for the construction of Catholic Church. Now at the same place, St. Xavier church stands now.
14. Muttom Beach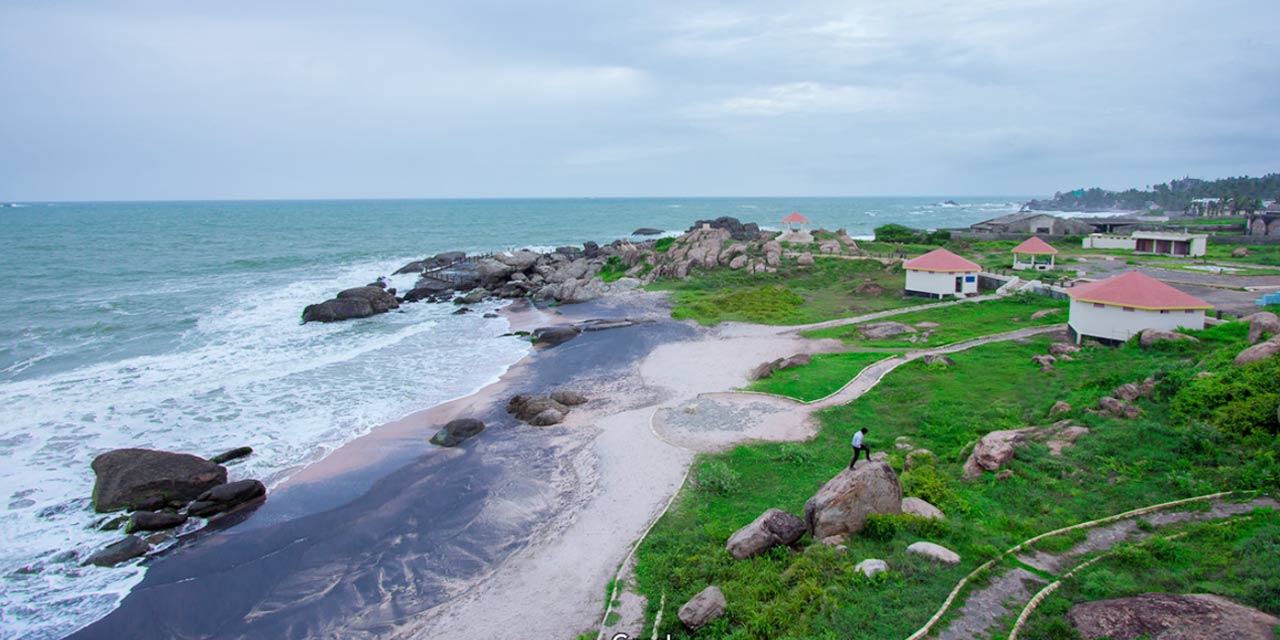 Another popular Tourist attraction in Kanyakumari is the Muttom Beach. Located in a fishing village named Muttom, this beach is known for scenic beauty. Muttom Beach is ideal for those who are looking for a few peaceful moments away from the crowd. The huge rocks here are a major attraction, along with the shimmering spread of beach. A children's park is also located closer by.
The beauty of Muttom Beach is such that many Tamil, Malayalam and Hindi language movie scenes have been shot at this beach. The surrounding hilly areas offer a breathtaking panoramic view. It is ideal to visit this beach at the time of sunset and sunrise.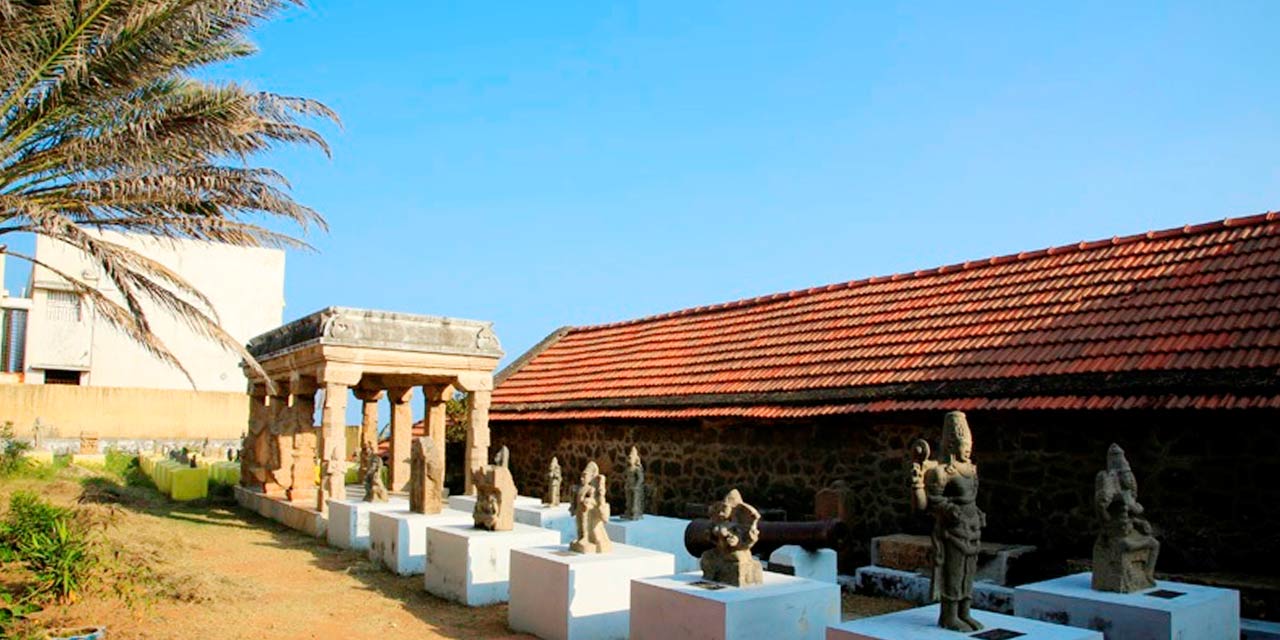 Presenting a rich collection of artifacts, including coins, wood carvings, Tribal objects and bronze sculptures, Government Museum is an ideal place to visit and get a glimpse into eras gone by. There are also displays of various kinds of crafts related to South Indian Temples. One can also see zoological and botanical specimens at this museum, including whale-bones, brought from Manavalakurichi town of Kanyakumari. Government Museum is located on the Beach road, just 1 km away from Kanyakumari bus stand and 1.5 km from Kanyakumari railway station.
16. Guganathaswamy Temple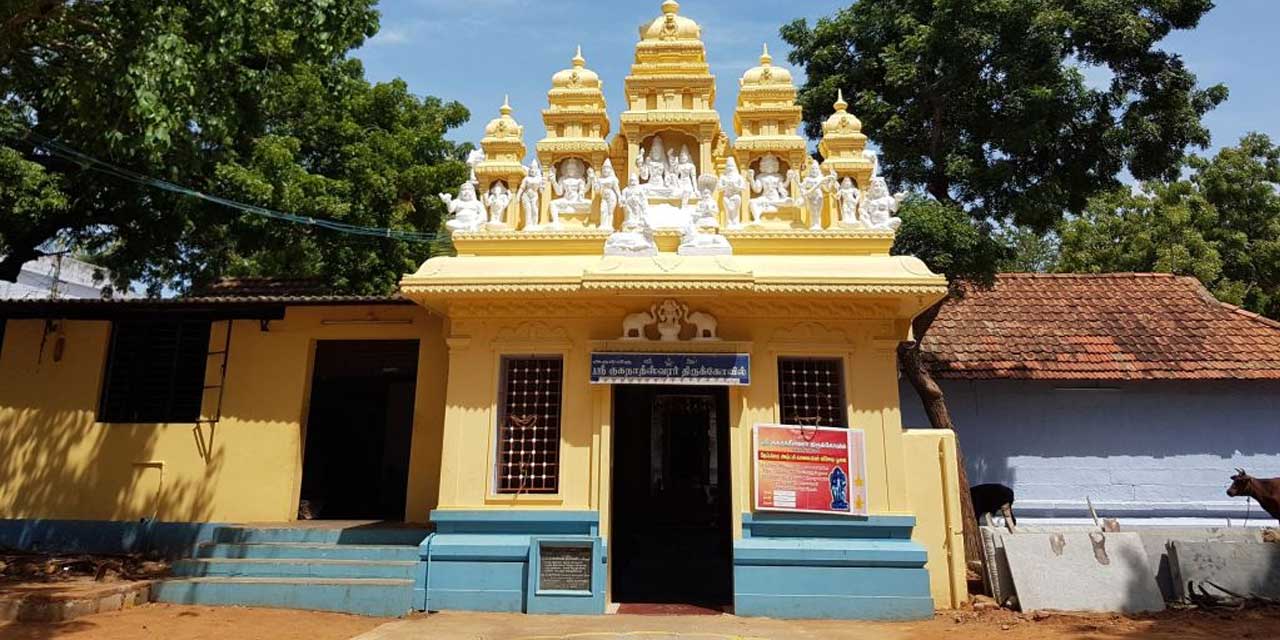 Guganathaswamy Temple is another place to see in Kanyakumari. Built during the reign of Chola dynasty, this temple is said to be more than 1000 years old. There are 16 inscriptions in Guganathaswamy. These inscriptions date back to 1038 A.D., 1044 A.D. and 1045 .A.D. The attractive structure of this temple reflects the Chola architectural style. The darshan timings at Guganathaswamy Temple is from 6 AM to 11 AM. In evening, the timings are from 5 PM to 8.45 PM.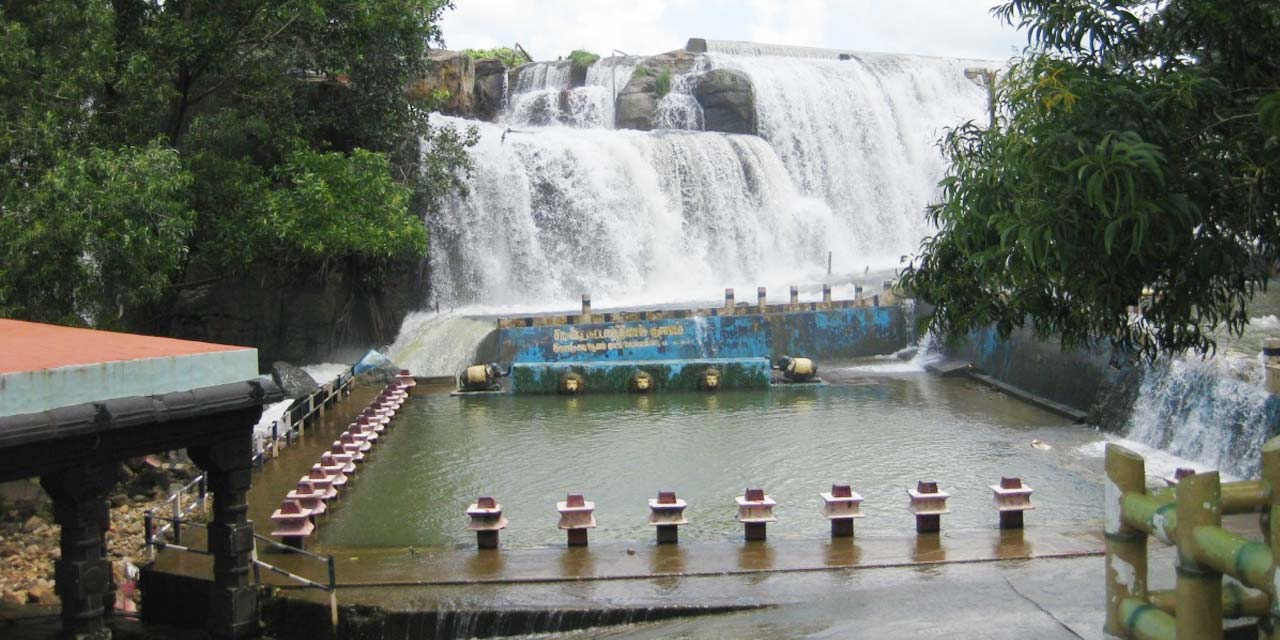 Another popular sightseeing place in Kanyakumari is the Thirparappu Waterfalls, which is also known as Kumari Kuttalam. Presenting incomparable scenic beauty, Thirparappu Waterfalls cascades from a height of around 100 feet; flowing down on a rocky riverbed. This man made waterfall originates from the Kodayar River. Boating is quite popular here. There are separate bathing areas too for men and women. A swimming pool, especially for children has also been constructed recently. Water from Thirparappu Dam is used for irrigation in the nearby areas.
The ancient Mahadevar Temple is located near to the waterfalls. Thirparappu Waterfalls is around 13 km from Pechiparai Dam.
18. Kamarajar Manimandapam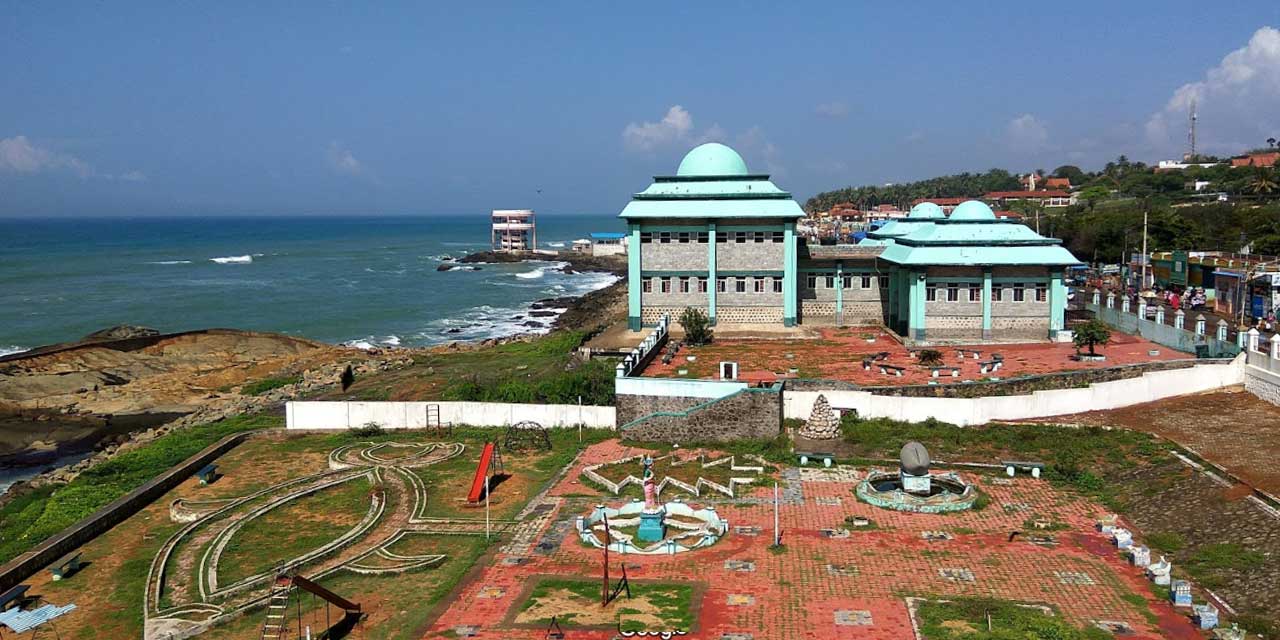 Kamarajar Manimandapam, dedicated to Late Sri Kamarajar, former Chief Minister of Tamil Nadu also a veteran leader who fought for India's independence, is also a place worth visiting when on a Kanyakumari Tour. This monument has been built in memory of Sri Kamarajar, who was also called as Black Gandhi by the masses. The place where monument stands now is where his ashes of Sri Kamarajar, before immersing them in the Ocean. There is museum here showcasing varied aspects of his life, presenting an opportunity to know about the struggles and achievement of this great leader of the country. The opening timings of Kamarajar Manimandapam are from 7 AM to 7 PM.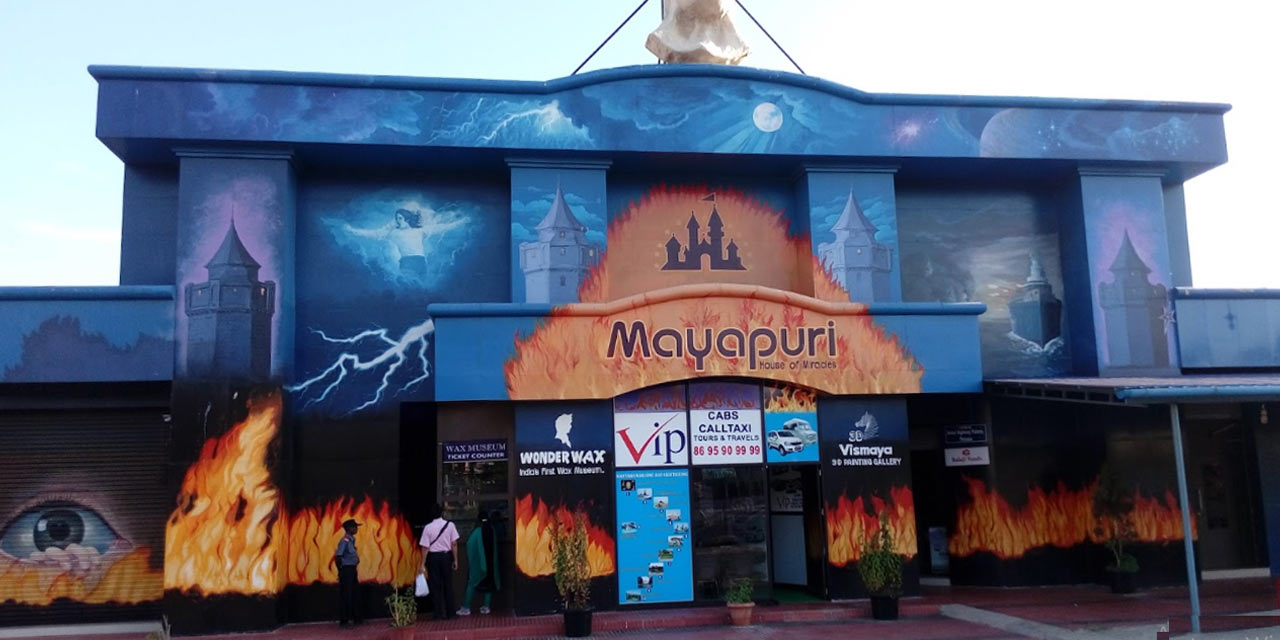 Kanyakumari Wax Museum is the first wax museum to be built in India. Located in the Baywatch Amusement Park of Kanyakumari, this museum was started in the year of 2005. The museum showcase lookalike statue, made up of wax. These statues are of various popular national and international personalities, including Amitabh Bachchan, Shahrukh Khan, Michael Jackson, Rajnikanth, Jackie Chan, etc. Precision with which the statues have been made is worth admiring. It is place that is entertaining for both, kids and adults.
20. Kalikesam Waterfall
If looking a secluded place where you can spend a few moments absolute peacefulness then visit the Kalikesam Waterfall in Kanyakumari. Around 27 km away from Nagercoil, this waterfall originates from River Boothapandi.
The surrounding area is popular for rubber plantations, while the dense forest around is known for wild animals that are also said to frequent this area. Near Kalikesam, there is a Goddess Kali Amman temple and a cave named, Bottani Cave, which are also worth visiting.
21. Pechiparai Dam
Located in Kalkulam Taluk, at a distance of 43 km from Nagercoil, Pechiparai Dam has been built over River Kodayar. It was constructed during the reign of Travancore Maharaja Moolam Thirunal. Reservoir water is used for irrigation as well as for drinking purposes. Surrounded by lush green dense forest Pechiparai Dam offers an enchanting scenic beauty. The surrounding area is rich in flora and fauna including tigers, deers, elephants, etc.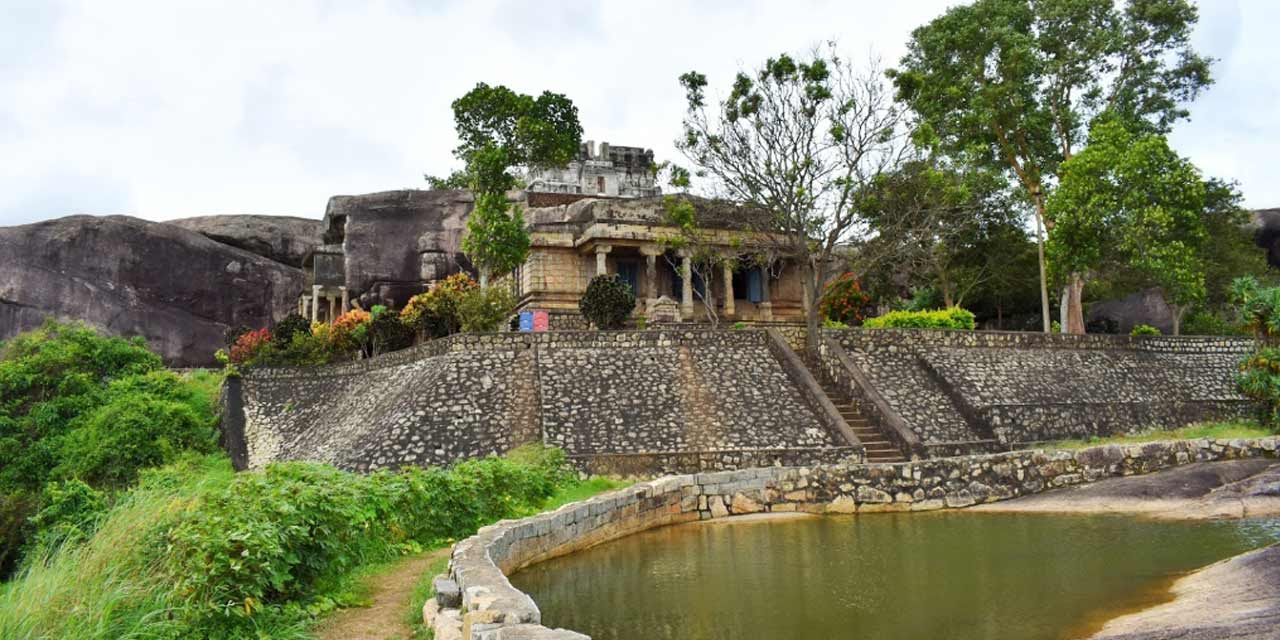 Another place to see in Kanyakumari is the Chitharal Jain Monuments. This monument on Chitharal hills which are also known as Chokkan Thoongi Hills is primarily ruins of a Jain training center of 9th century. The ancient cave temple on the hill, showcasing captivating rock cut sculptures of Tirthankaras, Goddess Dharma Devi and other deities. Now protected under the Archeological Survey of India (ASI), Chitharal Jain Monuments presents a glimpse into history of the period when the area was under the reign of the Jain King Mahendravarman-I (610-640).
23. Chothavilai Beach/ Sothavilai Beach
Located at a distance of 10 km from kanyakumari, Chothavilai Beach, also known as Sothavilai Beach is undeniably one of the best beaches of Kanyakumari. A must visit for beach lovers this beach with a length of around 4km is also one among the longest beaches in Tamil Nadu. This beach is characterized by shallow waters and high sand dunes, which indeed make a worth capturing sight. Its shallow waters make it suitable for swimming.
There are many other places to visit in Kanyakumari. If time permits, plan a visit to places such as natural waterfall Ullakaarvi, Mahadevar Kovil, Sanguthurai Beach, Thirunanthikarai Cave Temple, Thengapattinam Beach, Keeriparai Reserve Forest, etc. These wide array of sightseeing places in Kanyakumari is sure to make your tour a memorable one.