Kanyakumari is a pristine coastal town located at the southernmost tip of India. It is a captivating tourist destination known for its breathtaking views of the confluence of the Arabian Sea, the Bay of Bengal, and the Indian Ocean. Booking Kanyakumari 1 Night / 2 Days Tour Packages is the perfect way to explore and experience the tropical charm of the destination.
The most popular aspect of Kanyakumari is its spectacular sunrise and sunset, where the sun seems to both rise and set over the sea. Explore the city's rich heritage, pristine beaches, and ancient shrines. You can indulge in various fun activities at Kanyakumari.
The coastal town features several tourist attractions like the Vivekananda Rock Memorial, Gandhi Mandapam, Thiruvalluvar Statue, and the Kanyakumari Temple. It is an ideal destination for family vacations, solo trips, or spiritual retreats.
Tour Packages Overview
Kanyakumari 1 Night / 2 Days Tour Packages offer a well-rounded experience of the coastal holiday destination. You can make the most of your visit to the enchanting destination with a customized package. Generic inclusions in the package often encompass accommodation in comfortable hotels or resorts, airport or railway station transfers, and visits to the popular tourist attractions of Kanyakumari.
Some hotels may offer complimentary breakfast, allowing you to savor local cuisine and flavors. You can request experienced guides to get insights into the history, culture, and significance of the places visited. Customize your experience further with optional services like enjoying cultural performances, indulging in water sports activities along the pristine beaches, babysitting, and dining at the beach. Spiritual seekers can opt for yoga and meditation sessions.
Why Book with Us?
Kanyakumari 1 Night / 2 Days Tour Packages by Holidays DNA offer a memorable travel experience. It includes accommodation, transportation, guided tours, and meals. We enhance your experience by offering the best the tropical town has to offer. Our team discusses your needs and interests to provide the most convenient accommodation, specialized activities, and on-demand arrangements. The package will be tailored to your interests, budget, and travel needs.
Resort & Hotels options with Kanyakumari 1 Night / 2 Days Tour Packages
1. Annai Resorts: Annai Resorts is a 3-star hotel nestled in the picturesque town of Kanyakumari. The property offers comfortable and well-furnished rooms with modern amenities, ensuring a pleasant stay for guests. It features a multi-cuisine restaurant serving delectable dishes, a swimming pool for relaxation, and conference facilities for business travelers.
2. Itsy by Treebo: Itsy by Treebo is a 3-star hotel located in Kanyakumari. The property boasts comfortable and well-appointed rooms with modern amenities, ensuring a pleasant stay. Its features include an on-site restaurant serving diverse cuisines, a rooftop terrace with panoramic views, and a conference room for meetings.
3. Hotel Sangam: Hotel Sangam is a 3-star hotel situated in the heart of Kanyakumari. The property offers comfortable rooms equipped with essential amenities for a pleasant stay. It features a vegetarian restaurant serving South Indian delicacies, a well-equipped banquet hall, and a travel desk to assist guests with sightseeing plans.
Popular Sightseeing Places to Visit with Kanyakumari 1 Night / 2 Days Tour Packages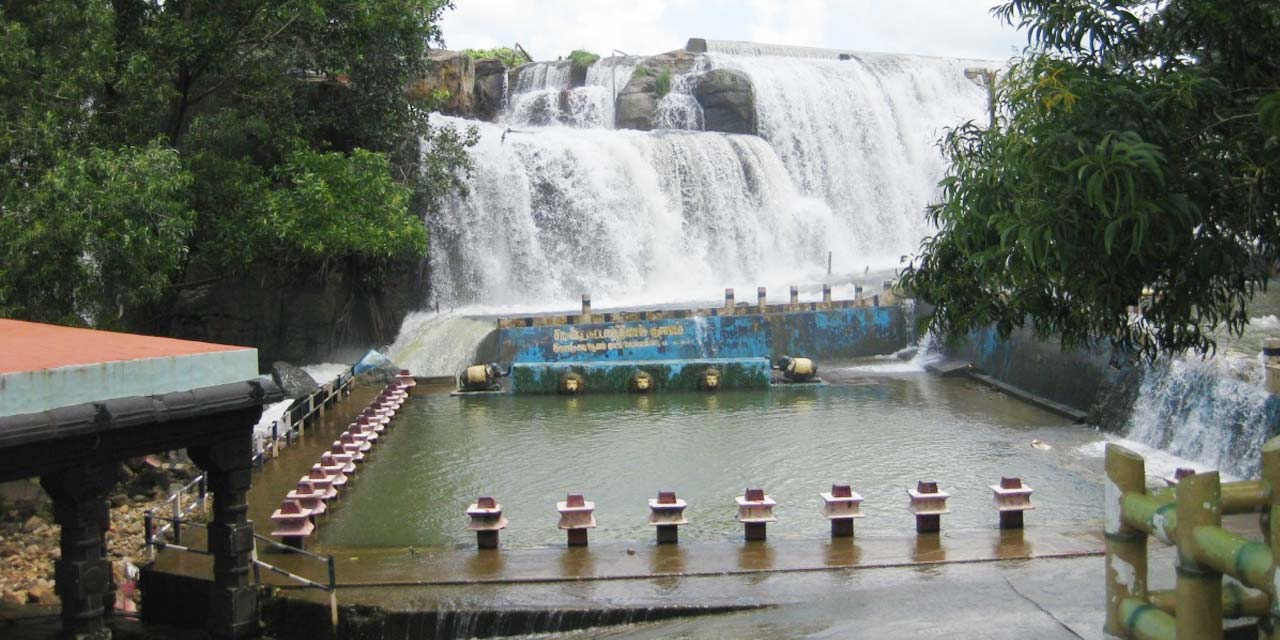 Thirparappu Falls is a scenic waterfall located near Kanyakumari. Its tourism importance lies in its natural beauty and tranquility. You can enjoy the breathtaking view of cascading water, take a refreshing dip in the pool below, and have a picnic amidst lush green surroundings. It is a serene spot for nature enthusiasts and a perfect escape from city life.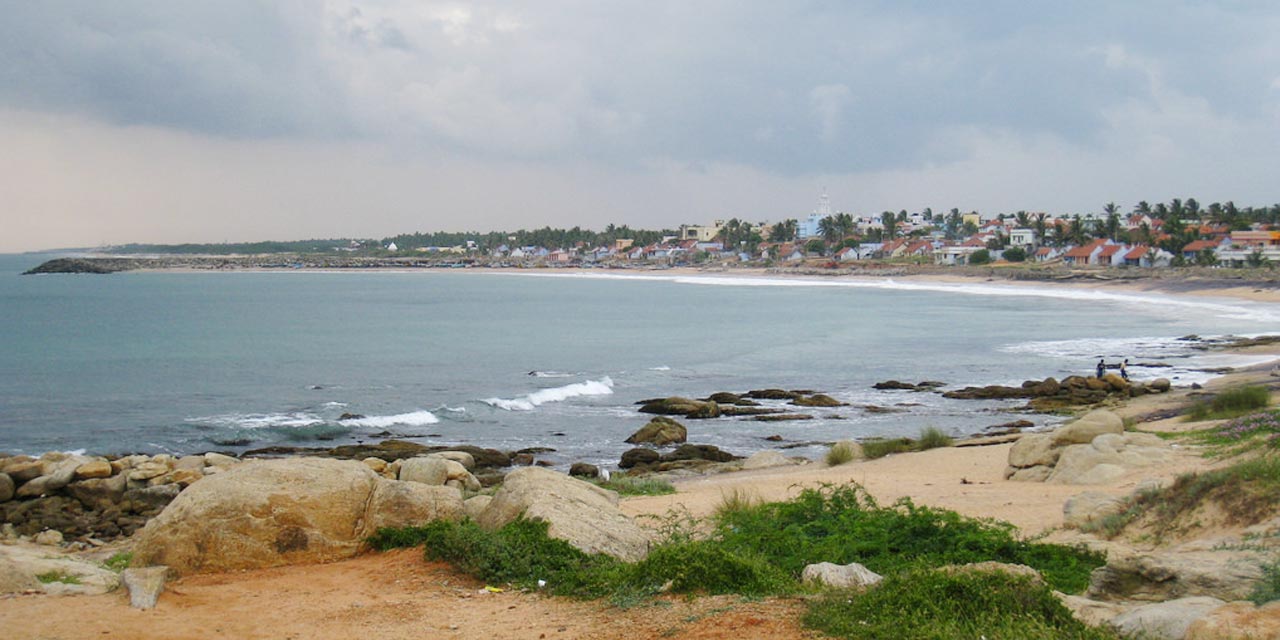 Kanyakumari Beach, situated at India's southernmost tip, is known for its stunning views of the confluence of three seas. It is a pleasure to witness the breathtaking sunrise and sunset vistas. You can visit the towering Thiruvalluvar Statue and Vivekananda Rock Memorial. Explore the seashore and indulge in beachside relaxation and water sports like swimming and boating.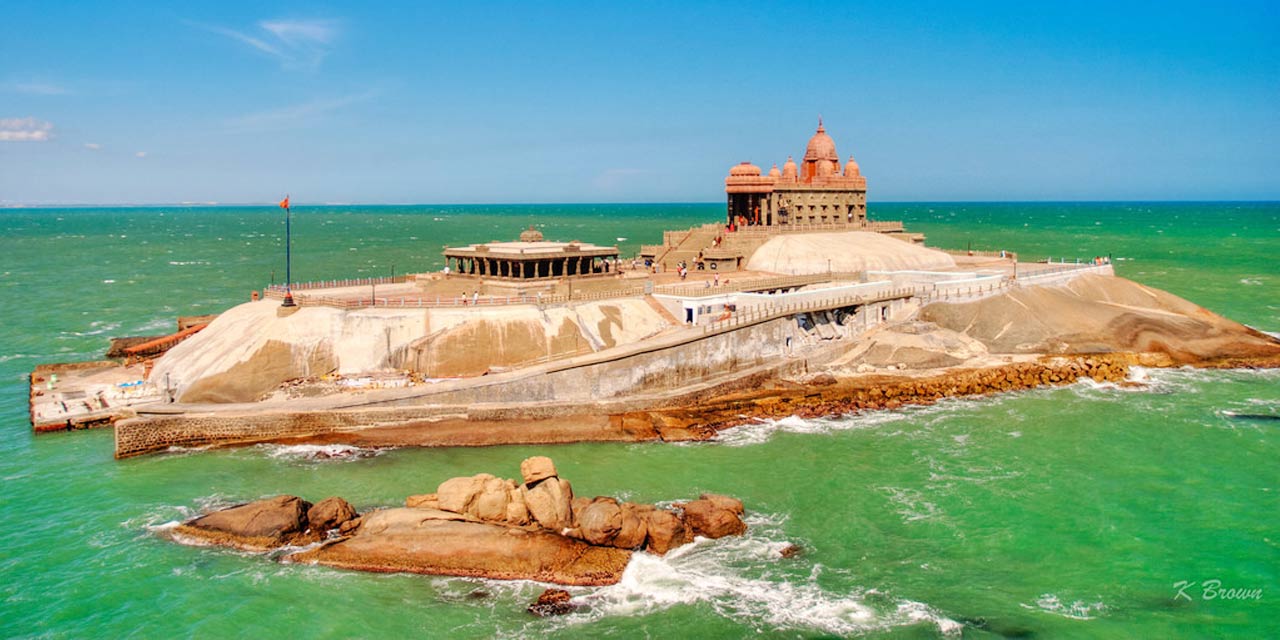 The Vivekananda Rock Memorial is a renowned tourist site in Kanyakumari. Situated on a small island, it honors Swami Vivekananda. You can explore the memorial to get an insight into his life and learnings. Meditate at the Dhyana Mandapam and enjoy the panoramic views to refresh your senses. It is a place of spiritual significance and offers tranquility amidst natural beauty.
Activities & Things to Do on Kanyakumari 1 Night / 2 Days Tour Packages
In addition to the iconic attractions, Kanyakumari offers several activities, such as visiting the Wax Museum and exploring the Tsunami Memorial Park. You can take a ferry to the nearby Thiruvalluvar Statue and enjoy cultural performances at the Gandhi Memorial Mandapam. Kanyakumari is also home to a number of religious sites, such as the Bhagavathy Amman Temple and Udayagiri Fort.
Kanyakumari offers several shopping options for visitors. The main market near the beach area is known for selling seashell jewelry, handicrafts, and souvenirs. Gandhi Memorial Road features shops with traditional clothing, saris, and local spices.
You can buy vibrant Sarongs and wooden crafts as unique Kanyakumari mementos. Other popular souvenirs to consider buying include seashell jewelry, traditional saris, local spices like cardamom and cloves, and decorative lamps. History buffs can buy souvenirs featuring images of Swami Vivekananda and Mahatma Gandhi. These items not only serve as reminders of your trip but also showcase the region's culture and craftsmanship.
The region's culinary scene is also vibrant. You can find many local eateries and restaurants serving delicious South Indian cuisine, including Thalassery Biryani, fish curry, and Payasam. At the local markets and beachfront, you can also enjoy some street food, such as banana chips and roasted corn.
---
Kanyakumari offers a perfect blend of sightseeing, beach visits, cultural tours, and religious pilgrimages. It is the ideal destination for a fun-filled beach holiday while experiencing the culture and traditions of southern India. Kanyakumari has something to offer everyone, from families to couples, friends, and even solo travelers.
Booking a Kanyakumari 1 Night / 2 Days Tour Package ensures a delightful and hassle-free holiday. These packages offer a well-structured itinerary, covering the must-visit attractions, comfortable accommodations, and an enlightening local experience.