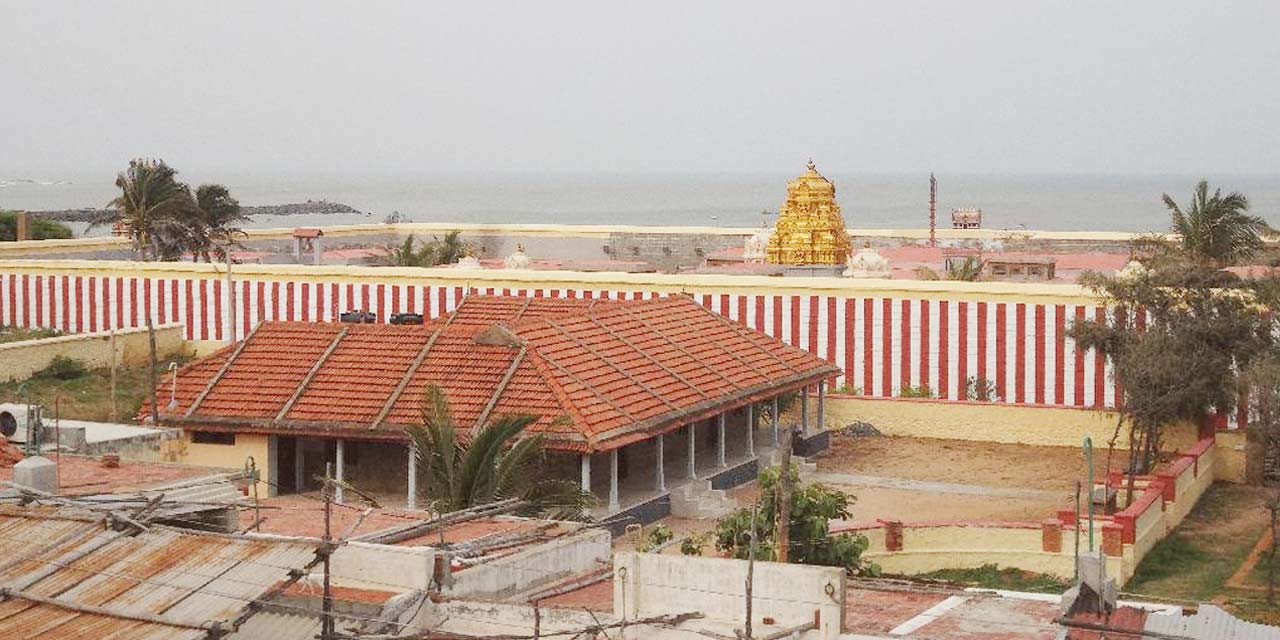 Kumari Amman Temple Kanyakumari Entry Fee
Cameras are not allowed inside the temple
Kumari Amman Temple Kanyakumari Phone
---
Rating:
| 4/5 stars
Based on total 52 reviews
Kumari Amman Temple Kanyakumari Address: Sannathy Street, Kanyakumari, Tamil Nadu, 629702, India
Kanyakumari Tour Packages
Kumari Amman Temple Kanyakumari Timings
Day
Timing
Monday
4:30 am – 12:30 pm
4:00 pm – 8:00 pm
Tuesday
4:30 am – 12:30 pm
4:00 pm – 8:00 pm
Wedesday
4:30 am – 12:30 pm
4:00 pm – 8:00 pm
Thursday
4:30 am – 12:30 pm
4:00 pm – 8:00 pm
Friday
4:30 am – 12:30 pm
4:00 pm – 8:00 pm
Saturday
4:30 am – 12:30 pm
4:00 pm – 8:00 pm
Sunday
4:30 am – 12:30 pm
4:00 pm – 8:00 pm
Links:
Website
|
Map
---
Located in Kanyakumari, Kumari Amman Temple is one of the most sacred temples in the world. Considered as one of the 108 Shakti Peethas, this temple is the home of Goddess Devi Kanya Kumari, referred as the Virgin Goddess.
Dating back to more than 3000 years, this temple is not only religiously significant but also has great historical importance. This ancient temple of Kanyakumari also presents mesmerising scenic beauty as it is location by the side of vast spread of ocean. Spiritual aura, breathtaking natural beauty and an ancient architecture makes this temple a must visit not only for devotees but for every traveller on Kanyakumari Tour.
The presiding deity of Kanyakumari Temple is Kumari Amman, also known as Bhagavathi Amman. Remarkable feature of the alluring idol of the Goddess Kanya Kumari is the diamond nose ring of the Goddess. There are many popular stories related to the striking shine of the nose ring. According to legend, the nose ring diamond was obtained from King Cobra. As per one popular tale, the shine reflecting from the nose ring is so strong that once a sailor mistook it as a lighthouse and ultimately hit the ship on the rocks. This is the reason why eastern door of the temple is kept closed and is opened only five times in a year, on special occasions.
Popular Temple Festivals
Although one can visit this ancient temple at any time of the year and seek blessings of the Goddess, visiting during the annual festivals promise an entirely different experience. Vaisakhi Festival that is mostly celebrated in the month of May is the most important festival of the temple. It is celebrated for a span of 10 days. During this festival, the utsava idol of Goddess Kumari also takes part in various processions of the festival.
Other important festivals of the temple are Navaratri Festival, Float Festival, Car Festival and Kalabham (Sandal) festival.
Legend/History of Kumari Amman (Kanyakumari) Temple
The history of Kanyakumari Temple can be traced back in many ancient scriptures. In great Hindu epic Mahabharata and Ramayana, Kumari Amman Temple has been mentioned. Even in the Sangam works such as Manimekalai and Purananooru, there is mention of this temple.
According to the legend behind the Kanyakumari Temple, demon Banasura had captured all devas and kept them in his cruel captivity. As per the boon he could be killed only by a virgin girl. Hence, upon devas prayers and plead, Goddess Parasakthi took the form of Kumari, the virgin girl so as to kill the demon.
With time, Lord Shiva fell in love with Kumari and the arrangements of their celestial wedding were made. Sage Narada, who was aware of the fact that demon Banasura can be killed only if the Goddess remains unmarried, tried to cancel the wedding through many ways. When he couldn't succeed and the marriage time was fixed for midnight, he devised a plan. On the day when Lord Shiva started his journey for wedding, from Suchindram at Valukkuparai to Kanyakumari, Sage Narada took the form for a cock. He crowed to misleadingly indicate the onset of morning. Lord Shiva, hearing the cock, returned back, thinking that the auspicious time of wedding had passed, while the Goddess was left waiting for him. Later, Goddess decided to remain unmarried.
However, when demon Banasura, mesmerised by the Goddess's beauty, tried to marry her forcibly, she annihilated him with her Chakra Gadha, as well as freeing devas from his capture. Later, Banasura asked Goddess for mercy and prayed her to absolve his sins. Goddess forgave him and blessed the water of holy confluence. It is said that whoever takes a dip in the waters here, washes off his/her sins.
As per the legend, Saint Narada and Lord Parasurama requested the goddess to stay on earth till the end of Kaliyuga. Lord Parasuram later constructed a temple by the side of ocean; he then installed an idol of the Goddess Kanya Kumari. The shores around the temple have around 25 theerthams. Another holy place near the temple is Sripada Parai, also known as Vivekananda Rock Memorial. Imprints of Goddess's feet can be seen at the rock.
Architecture of Kumari Amman (Kanyakumari) Temple
Dedicated to Devi Kanyakumari, Kumari Amman Temple is more than 3000 years old, presenting an impressive architecture. Once a part of the Travancore Kingdom this ancient Temple is located by the side of ocean.
The main deity of the temple, Devi Kumari is facing east. The idol shows Goddess as a young girl with garland. The nose ring of the deity is known for its extraordinary luster. There are many tales related to it as well.
Kanyakumari Temple is surrounded by strong stone walls.The main entrance to the temple is via the northern gate. The eastern gate of the temple is kept closed on most of the days. It is opened only on special occasions and days such as new moon days during the month of Vrischikam, Edavam and Karkidakam.
There are various others shrines within the temple complex dedicated to Lord Surya Deva, Lord Ganesh, Lord Ayyappa Swamy, Goddess Balasundari and Goddess Vijaya Sundari. There is well inside the temple from where water is used for abhishekam of the Goddess. It is known by the name of Moola Ganga Theertham.
Timings of Kumari Amman (Kanyakumari) Temple
The opening timings of Kanyakumari Temple for darshan are from 4.30 AM to 12.30 PM. It then closes in afternoon and again opens in evening from 4 PM to 8 PM.
Reaching Kumari Amman (Kanyakumari) Temple
Tourists can reach Devi Kanyakumari Temple easily as it is easily accessible by road. Tourists can take auto rickshaws or taxi to the temple. There are also city buses that one can take to reach here.
This temple is at a distance of 1 km away from Kanyakumari Bus Stop as well as quite close to the Kanyakumari Railway Station which is also around 1 km away.
Image Gallery of Devi Kanyakumari / Kumari Amman Temple
Location Map for Kumari Amman Temple Kanyakumari