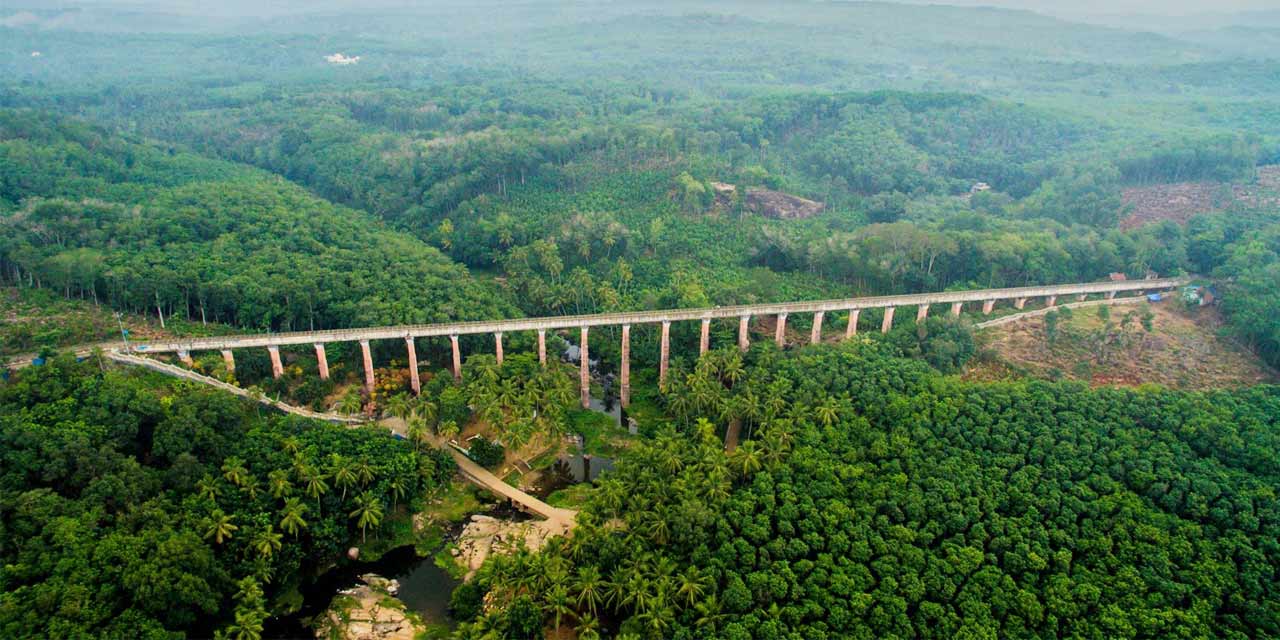 Mathur Aqueduct Hanging Trough Kanyakumari Entry Fee
2 per person
5 for Still Camera
25 for Video Camera
Mathur Aqueduct Hanging Trough Kanyakumari Phone
N/A
---
Rating:
| 3/5 stars
Based on total 56 reviews
Mathur Aqueduct Hanging Trough Kanyakumari Address: Mathur Hanging Trough, Aruvikkarai , Tamil Nadu, 629164, India
---
Built over the River Pahrali, Mathoor Hanging Bridge has become an important part of every Kanyakumari tour. River Pahrali originates from the Mahendragiri Hills of the Western Ghats. It is located in Mathoor village of Thiruvattar Panchayat Union.
It offers a breath taking scenic beauty of the surrounding areas. Peaceful atmosphere when accompanied by mesmerizing nature, creates a setting that will leave you awe struck. What place Mathoor hanging bridge apart is not just its unique beauty but also the fact that is the highest (115 feet) and the longest hanging bridge not only in India but also in Asia, with a length of around 1 km.
Initially it was built as drought relief measure as well as for the agricultural development in the nearby area. However, now it is more popular as sightseeing place, offering a bit of fresh air and tranquil surroundings. The experience of being so close to clouds yet near to the lush greenery and the landscapes is sure to leave you enchanted.
Recently a children park has also been developed in this area by the district administration. Often people can be seen coming here and relaxing with their loved ones. A staircase has also been built. Now you can easily walk down to the children park or the view tower via this staircase.
Also known as Mathur Aqueduct, this bridge has been made with around 28 pillars, while the maximum height of the pillar is around 115 feet. The furrow has a height of around 7 feet with a width of 7.5 feet, it is partially covered with concrete slabs.
When visiting Mathur Hanging Bridge you can also plan a visit to another Kanyakumari tourist attraction- Thirparappu Waterfalls. It is located at a distance of 3 km from the bridge.
History of Mathur Aqueduct Hanging Trough, Kanyakumari
Mathoor Hanging Bridge was constructed in the year of 1966. The credit of constructing this bridge goes to late Thiru. K. Kamaraj, the then Chief Minister of Tamil Nadu state.
Across the river Pahrali, this bridge was built with a total cost of around 13 lakhs. It was built primarily to serve the irrigation requirements of Vilavancode and Kalkulam Taluks. There is a channel on the bridge that transfers water for irrigation from one side of the hill to other side. This trough is around 7 feet high with a width of 6 inches and is supported by 28 pillars.
Reaching Mathoor Hanging Bridge, Kanyakumari
Mathur Hanging Bridge is easily accessible. It is located at a distance of around 60 km from Kanyakumari. It is near to other destinations as well such as 70 km from Trivandrum and just 10 km away from Thuckalay. From the town of Thiruvattar, Mathoor hanging bridge is only 3 km away.
Tourists can hire a taxi from Kanyakumari and reach this location without any hassle.
One can also take a bus from Kanyakumari to reach this bridge. If travelling by bus, you are required to take bus to Nagercoil from Kanyakumari. From Nagarcoil, one needs to take a bus to Thuckalay and then another to Mathoor. Kulitthurai Railway Station is the nearest railway station to Mathoor at a distance of only 15 km.
Image Gallery of Mathur Aqueduct Hanging Trough / Mathoor Hanging Bridge, Kanyakumari
Location Map for Mathur Aqueduct Hanging Trough Kanyakumari