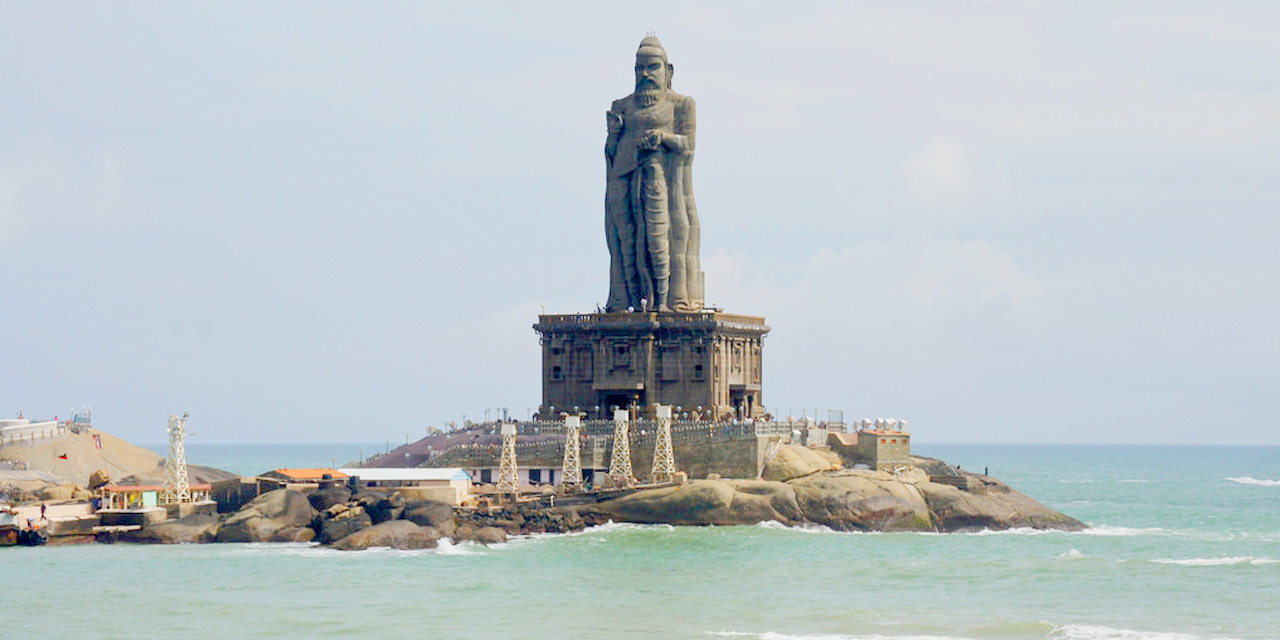 Saint Thiruvalluvar Statue Kanyakumari Entry Fee
Saint Thiruvalluvar Statue Kanyakumari Phone
---
Rating:
| 4/5 stars
Based on total 53 reviews
Saint Thiruvalluvar Statue Kanyakumari Address: Near Vivekananda Puram, Kanyakumari, Tamil Nadu, 629702, India
---
Standing on a 38 feet high pedestal, the gigantic statue of Saint Thiruvalluvar is another popular attraction of a Kanyakumari tour. This statue was built by the Tamil Nadu Government, in the honor of Saint Thiruvalluvar who is undeniably one of the greatest Tamil poets and philosophers.
Alluring every visitor with its immaculate sculpting, this stone sculpture has been built on 38 foot long pedestal to symbolize 38 chapters of virtue in the Thirukkural. Saint Thiruvalluvar Statue is around 133 feet long when combined with the height of pedestal. The height of 133 feet is also symbolic of the 133 chapters in Thirukkural. Thirukkural, along with many great creations, was written by Saint Thiruvalluvar. The statue is symbolic of various great verses and teaching of this ancient classic of Sangam Literature.
This statue of Saint Thiruvalluvar represents great historical significance as well as it is symbolic of great teaching of Saint Thiruvalluvar. This sky touching statue amid the vast spread of ocean and spiritual atmosphere symbolises prosperity and pleasures can be earned and enjoyed when the base of virtue is solid and strong.
Architecture of Saint Thiruvalluvar Statue, Kanyakumari
With a total weight of 7000 tons, Thiruvalluvar Statue stands majestically at a height of 133 feet. Work of Indian sculptor Dr. V. Ganapati Sthapati, this statue captivates every visitor with its artistic excellence.
The slight bend at the waist of the Thiruvalluvar Statue can be seen as similar to the dancing pose of Nataraja, a form of Lord Shiva. Another speciality of this statue is the detailing of the 19 feet high face of Saint Thiruvalluvar. All the features of the face including ears, forehead, eyes and mouth have been sculpted manually. Each made of individual stones these are supported by stubs of Palmyra tree and ironwood. While creating it, around 18000 ironwood poles were tied to 2 truckloads of ropes so as to reach the top of Thiruvalluvar statue.
The statue is standing on pedestal that is three tiered, called as Athara Peedam. The pedestal is surrounded by mandapam known as Alankara Mandapam. This mandapam is surrounded by 10 statues of elephants. These elephants are symbolic of 10 directions in which King Dasaratha, could charioteer. King Dasaratha was the father of Lord Rama. Inside the mandapam, 140 steps have been constructed so that visitors can climb up to the pedestal, and reach the feet of the statue. On the outside edges of the pedestal, a few couplets from Thirukkural have been inscribed.
Right hand of Thiruvalluvar Statue is pointing to the sky with three fingers. This is symbolic of three stanzas of Thirukkural - Aram, Porul and Inbam.
History of Saint Thiruvalluvar Statue, Kanyakumari
In 1979, the foundation of Thiruvalluvar statue was laid by the then Prime Minister Morarji Desai. However, the installation and the sculpting started in 1990. The construction was completed in the year if 1999. It was inaugurated by the then chief minister of Tamil Nadu state, Dr. M. Karunanidhi on January 1st 2000.
For the construction of this majestic statue which is a brainchild of Dr. Ganapati Sthapati, around 500 sculptors were engaged. The stone for this statue were brought from Pattumala Kuppam, Sirudhamoor and Ambasamudram hills. This stone sculpture has been designed to withstand natural calamity like earthquake.
Timings of Saint Thiruvalluvar Statue, Kanyakumari
The visiting timing of Saint Thiruvalluvar Statue is from 8 AM to 4 PM. The charge for ferry services from the shore to the statue are Rs.20 per person.
Reaching Saint Thiruvalluvar Statue, Kanyakumari
Saint Thiruvalluvar Statue is easily accessible by ferry. As it is located 400 meters away from the mainland, there are many ferries that operated at regularly from the sea shore to the Vivekananda Rock Memorial with a halt of sometime at Saint Thiruvalluvar Statue. From railway station it is around 1.5 km away. This statue is located next to Vivekananda Rock Memorial.
Image Gallery of Saint Thiruvalluvar Statue, Kanyakumari
Location Map for Saint Thiruvalluvar Statue Kanyakumari